The Tasting Room by Diva, newly reopened with a fresh menu, is ready to serve you once again at the Good Earth Raghuvanshi Mills flagship in Mumbai.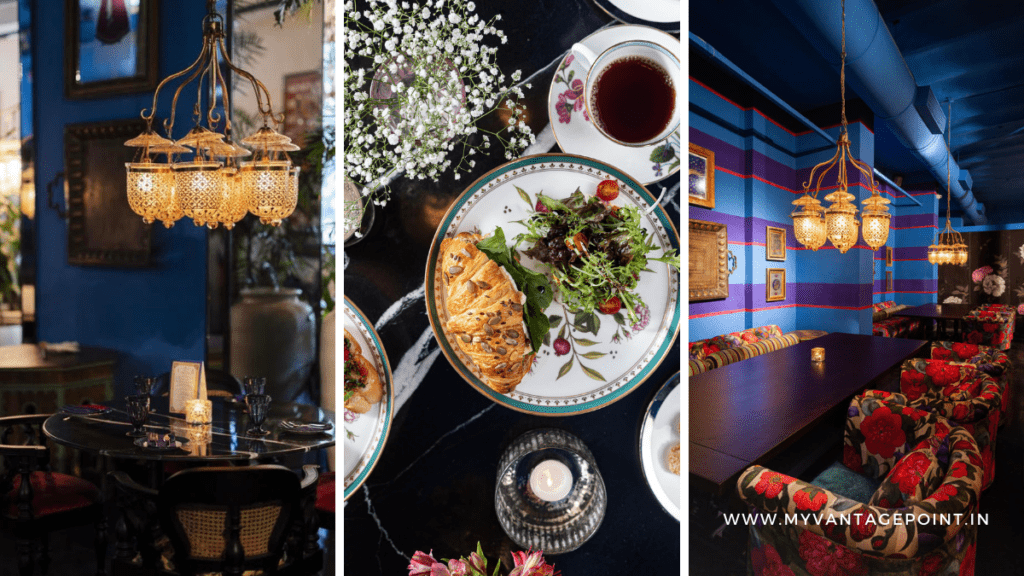 Indulge yourself at this glamorous, modern-day Persian café, with jewel-toned chenille details, baroque chandeliers, flavoursome meals and sparkling spirits to relish with your special someone. What's not to love!
The maximal setting of the Cafe's all-new avatar is a collaborative effort by Good Earth's Creative Director Anita Lal and Interior Designer Adil Ahmad. Every corner is designed to exude romance, a flight of fantasy, whimsy, and a lot of joy.
Take a cruise along the Silk Route and re-live the charm of traditional Persian cafés. With uplifting music wafting through this once-upon-a-time mill, accompanied by a fresh Mediterranean menu, sumptuous tapas and endless pours of wine, the space is a peaceful haven amidst the bustle of Mumbai.
A beautifully curated menu by the renowned master chef – Ritu Dalmia – one can indulge in a completely new gastronomical experience that is complex yet comforting with various flavours, textures, spices, and tastes – that is all served in Good Earth's fine table and barware.
Journey around the world with a new menu inspired by flavours from Chef Ritu Dalmia's favourite destinations—Columbia, Turkey, Italy, Beirut and more.
Championing farm-fresh ingredients, the menu features sumptuous tapas, mezze platters and charcuterie boards ideal for sharing, and a wide selection of world cuisine, from Lebanese khoubouz wraps to Sea bass Ceviche, Beetroot Gnocchi and the delectable Bastani ice cream inspired by Persia to finish things off on a sweet note.
The vibrant and intimate setting of The Tasting Room is an impeccable spot for meaningful conversations and lingering evenings this Valentine's Day, be it brunch, lunch, high-tea or evening drinks. A compelling choice for couples and everyone around who is looking to celebrate.
Open seven days a week from 11am – 8 pm | The Tasting Room by DIVA @ Good Earth, Raghuvanshi Mills, Mumbai