(08) Olga Poutchkova from Russia
Olga Puchkova is professional tennis player from Russia. She is coached by her father in Tennis. She made her Top 100 debut in 2006, and peaked at a high of World No. 32 on 17 June 2007.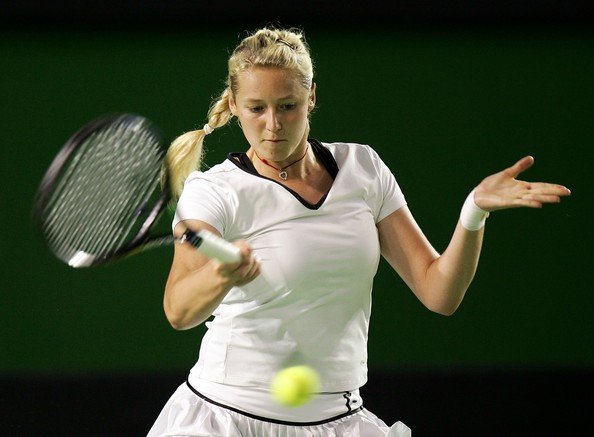 (07) Sania Mirza from India
Sania Mirza is an Indian beauty and is well-known for her distinguished forehand ground strokes that come packed with power and strength. She has been No. 1 in numerous Indian tennis plays for the double and single categories. She is the highest paid Indian tennis player after surpassing the $1 million U.S. mark in career earnings.
She is the first Indian tennis player to win WTA Tour title and she also picked up a win at the 2009 Australian Open for the mixed doubles. She married Pkistani cricketer Shoaib Malik. Many are curious of her being exposed physical outfits despite her being a Muslim by birth. In fact, this caused issues in their religion. However, this did not stop her from winning titles in tennis. She is ranked #77 in the AskMen.com's Top 99 Women for 2012 and she still reigns over the game with her beauty.
(06) Sabine Lisicki from Germany
Sabine Lisicki is from Germany and she was born on 22 september 1989. She turned professional in 2006 and her breakthrough came in 2009 when she reached the quarterfinals of the Wimbledon Championships and won her first WTA title, the Family Circle Cup, against Caroline Wozniacki. 

She is well known for her powerful, aggressive game. An aggressive baseliner, she hits "heavy balls" with topspin and pace.