Arshi Khan is all set to make an eye-catching appearance in the latest song 'Nakhre' by Pop Culture Media.She was last seen in Big Boss Season 11 & that's where she created a strong place for herself in the industry. Arshi Khan was always in news for her bold moves and it's an undenying fact that she was an amazing contestant in the reality show. She was a strong player and could tackle the tasks & her opponents because of her free-spirited attitude in the show.
The Big Boss fame is all set to be a part of the latest track 'Nakhre' that will be going on floors soon.
'Nakhre' Music Video starring Arshi Khan & Vinn Modgill
The new song is directed by Aditya Singh Rajput and will be brought to you by Pop Culture Media. The song is briefly a cover of Tarefaan. Aditya Singh Rajput, the director, has been here for a very long time & has given quite a few hits to the industry. He seems to be really excited for the music video as he is the one presenting Arshi Khan in this totally new avatar and keeping Vinn the mystery of the song.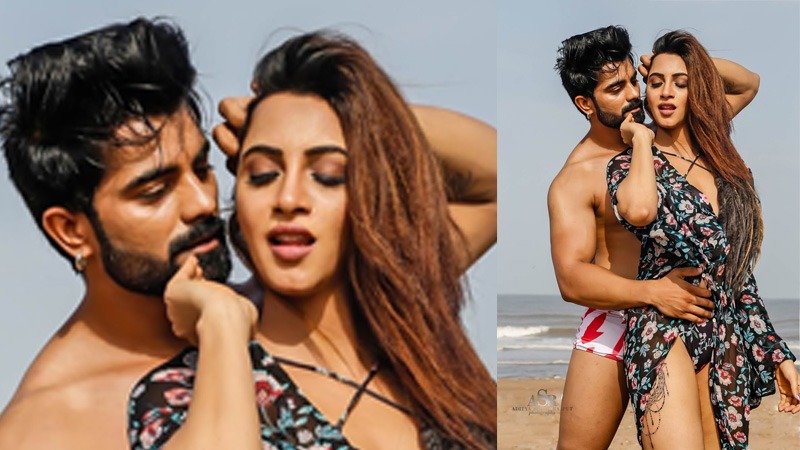 It has been clear so far that he likes to experiment & the new venture looks exciting so far. The song is going to be different for all the right reasons as we will see Arshi Khan in an evolved version and Vinn Modgill as the mystery guy.
She is all over her 'bold' image and is set to try out different ventures. Her look in the song is going to be a little less bold and more on the girl-next-door side.
Arshi Khan so far has got a huge fan following because of her sassy image but now the girl-next-door look is going to steal hearts, it seems. Vinn Modgill is going to be the mystery man of the song.
The music video will have him covered his face throughout. We are getting a hint of the uniqueness already because of the multiple exciting factors behind it. Since the news is out, the team has been flooded with messages of curious fans asking about her unique look and Vinn's mysterious identity. Keep your excitement intact because there's a lot to unfold yet.