"Ashes & Snow" – Gregory Colbert's Emotional Photographic Response to Nature & Our Place in It.
Gregory Colbert (born 1960 in Toronto) is a Canadian film-maker and photographer best known as the creator of Ashes and Snow, an exhibition of photographic artworks and films housed in the Nomadic Museum.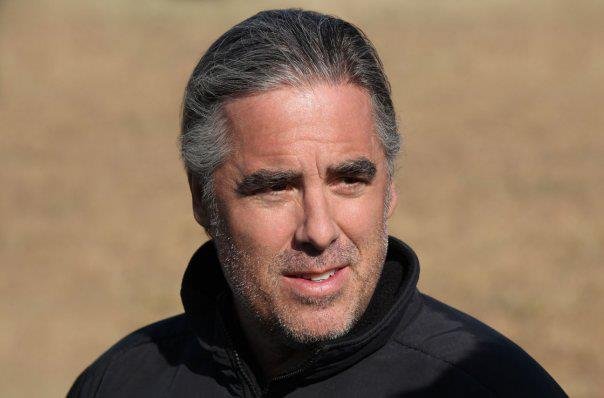 Career:
Colbert's first exhibition, Timewaves, opened in 1992 at the Museum of Elysée in Switzerland to wide critical acclaim. For the next ten years, Colbert did not publicly exhibit his art or show any films. Instead, he traveled to such places as India, Burma, Sri Lanka, Egypt, Dominica, Ethiopia, Kenya, Tonga, Namibia, and Antarctica to film and photograph interactions between human beings and animals. Since 1992, he has launched more than sixty such expeditions, and has collaborated with over 130 species. Elephants, whales, manatees, sacred ibis, Antigone cranes, royal eagles, Gyr falcons, rhinoceros hornbills, cheetahs, leopards, African wild dogs, caracals, baboons, eland, meerkats, gibbons, orangutans, and saltwater crocodiles are among the animals he has filmed and photographed. Human subjects include Burmese monks, trance dancers, San people, and other indigenous tribes from around the world.
Ashes and Snow:
In 2002, Colbert presented his work, Ashes and Snow, in Venice, Italy. An April 9, 2002 review in The Globe and Mail stated, "Colbert unveiled Ashes and Snow, an exhibition of images and photographs unprecedented in both scope and scale. Covering 12,600 square meters, it is billed as one of the largest one-man shows in the history of Europe."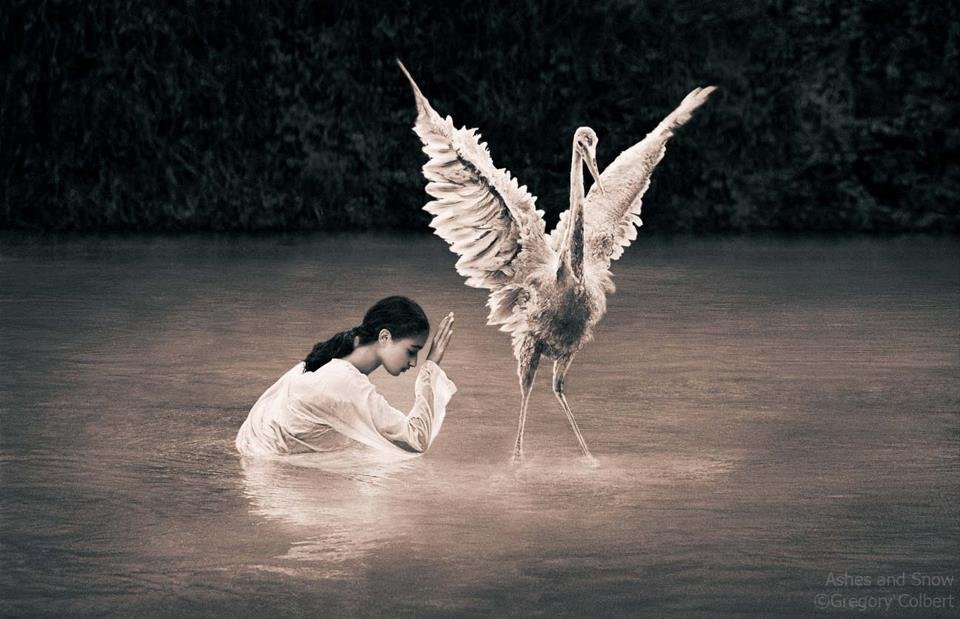 In spring 2005, the show opened in New York City in the Nomadic Museum, a temporary structure built to house the exhibition. Ashes and Snow and the Nomadic Museum then traveled to Santa Monica in 2006, Tokyo in 2007, and Mexico City in 2008. To date, Ashes and Snow has attracted over 10 million visitors, making it the most attended exhibition by a living artist in history.
Ashes and Snow has been a critical and popular success. Photo magazine declared, "A new master is born." Ashes and Snow has been described as "extraordinary" by the Economist, and "distinctive . . . monumental in every sense" by the Wall Street Journal. Stern magazine declared that the photographs are "fascinating," and Vanity Fair described Gregory Colbert as "Best of the Best." An article in 2002 in the New York Times by Alan Riding stated "The power of the images comes less from their formal beauty than from the way they envelop the viewer in their mood. . . .They are simply windows to a world in which silence and patience govern time."
Colbert began his career in Paris in 1983 making documentary films on social issues. His documentary, On the Brink-An AIDS chronicle, was filmed in nine countries, and was nominated for an ACE award in 1985 in the category of best documentary. Other film projects include Last Words and Finding a Way Home. Film-making led to fine arts photography.
Gregory Colbert has been the recipient of a number of awards and distinctions. In 2006 he was awarded the "Best Curator of the Year" at the Lucie Awards. In 2007, his film, Ashes and Snow was nominated for a special prize at the Venice Film festival.Most recently, he was named the honorary ambassador of culture and tourism to Mexico.
The Nomadic Museum, the traveling home of Ashes and Snow, is charted to travel the globe with no final destination.
Quotes:
"When I started Ashes and Snow in 1992, I set out to explore the relationship between man and animals from the inside out. In discovering the shared language and poetic sensibilities of all animals, I am working towards restoring the common ground that once existed when people lived in harmony with animals."
"Every culture from the Egyptians to the Mayans to the American Indians to the Bedouins created bestiaries that enabled them to express their relationship with nature. Ashes and Snow is a 21st-century bestiary filled with species from around the world. Nature's orchestra includes not just Homo sapiens but elephants, whales, manatees, eagles, cheetahs, orangutans, and many others."
Continue to NEXT PAGE >>