Music maverick, Shankar Mahadevan's featuring in Asian Paints Where The Heart Is showing his sprawling holiday home on the foothills of a soothing stream, just an hour away from the bustling city of Mumbai; is a treat for the tired soul.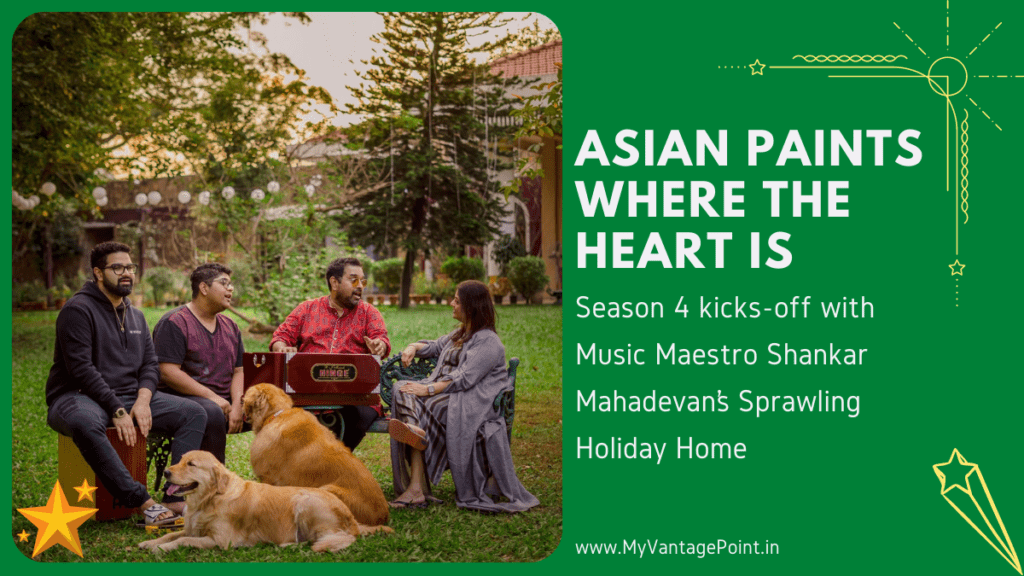 It is a true reflection of his work in music — bold, beautiful and nuanced in just the right way and Season 4 of 'Asian Paints Where The Heart Is' takes you inside the heart of his beautiful abode.
Set in the countryside, his home hits the right notes on so many levels: there's room for the family, there's room for guests, and there's room for his pet dogs.
The privilege of space is something Mahadevan loves about homes outside the city.
As a couple Mahadevan and his wife Sangeeta, love to host family and friends at their holiday home and entertain them with impromptu jam sessions.
And their spacious, high-ceilinged living room is testament to that fact. According to Mahadevan, the high ceiling provides the perfect acoustic reverberations for music.
This is a stark contrast to the 500 sq ft house he used to live in Chembur, Mumbai in his early years.
But the limited space wasn't an issue as music was all pervasive, with jam sessions lasting through the night sometimes for 9 – 10 hours at a stretch.
Unique décor elements are seen through experimentation with colour and texture that is used in bold strokes across the home.
In his words, "playing with decor is much like playing with music: you can get it wrong, but that shouldn't stop you from playing."
Sahana
Mahadevan and Sangeeta have lovingly named their home Sahana after a beautiful classical raag which interestingly they would have named their daughter if they were to have one.
The piece de resistance, however, for Mahadevan lies in the calmy gushing stream that runs along the back of the sprawling property and provides nature's own music.
The past year, due to the pandemic, has given Mahadevan and his family a chance to spend more time together in this paradise they call home.
Catch an exclusive tour of his home given by the musician himself, in the 1st episode of 'Asian Paints Where The Heart Is' Season 4.
Asian Paints Presents Where The Heart Is Season 4 Ep 01 featuring Shankar Mahadevan