Café Delhi Heights, a brand that has garnered widespread recognition and success, is celebrating its 12th anniversary. The brand has established a strong presence in cities such as Delhi, Mumbai, Chandigarh, Pune, Gurgaon, Noida, Ludhiana, Bangalore, and Lucknow. Founded by Vikrant Batra and Sharad Batra, Café Delhi Heights is an all-day casual neighbourhood café that delights customers with thrilling, loving, and artistic culinary experiences that cater to the diverse tastes of each city. It is a great place to hang out with friends, have smashing birthdays or electrifying parties, tap your foot with the in-house DJ or enjoy Live Band performances while you toss great food in your mouth. It's a place which serves all your needs.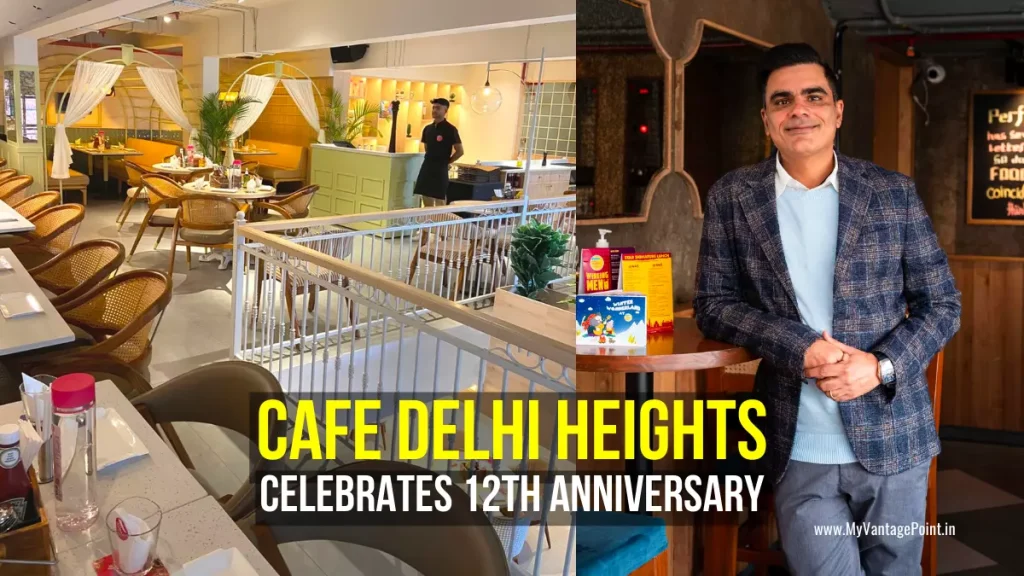 The Journey
Vikrant Batra, a highly respected and dynamic restaurateur in the Indian Food and Beverage Industry, expressed his dedication and satisfaction in contributing his all to Café Delhi Heights. He mentioned that his vision to introduce café culture struck a chord with the audience 12 years ago, and the brand has been growing steadily ever since. From its humble beginnings with a single outlet at Crosspoint Mall in Gurgaon, Café Delhi Heights has expanded to 35 outlets, with plans for further expansion in the upcoming year. Batra acknowledged that completing 12 years comes with great responsibility—to sustain the brand, meet people's expectations, and consistently provide compelling reasons for customers to keep visiting. Café Delhi Heights has also established its presence at iconic locations such as the Red Fort and the Airport.
Mission
The brand's mission revolves around growth and sharing, aiming to spread happiness among people through exceptional food and hospitality. Café Delhi Heights has ambitious plans for PAN India expansion, with a goal of opening 10 new outlets each year. Recent expansions have taken place in Ludhiana, Chandigarh, Lucknow, and Bangalore, and future plans include cities like Dehradun, Faridabad, Amritsar, and more. Additionally, the brand intends to open more outlets of its new brand COMFORT Bakehouse, with the first standalone restaurant already launched at Vatika Business Park.
Strategy
Customer satisfaction and culinary perfection are the cornerstones of Café Delhi Heights' growth strategy. The brand aims to strengthen its presence on social media platforms to enhance guest interaction and gather valuable feedback, which drives continuous improvement and encourages innovative thinking. Collaborations with different brands and hosting engaging pop-up events are some of the strategies Café Delhi Heights plans to employ for brand expansion. The brand regularly introduces new menus and explores new locations to stay fresh and exciting. Recently, they launched at DLF Promenade and Worldmark 65 Gurgaon, featuring a completely new look and menu.
Offers
Café Delhi Heights consistently introduces various food festivals and enticing combo offers to captivate customers. From unique festivals like Rice Above the Rest, Fish Trap Festival, Aperol Menu, Juicy Lucy Burger Festival, Pasta Festival, and Monsoon Specials to special occasions like Valentine's Day and the IPL season, the brand always strives to offer exciting experiences. Upcoming plans include the introduction of the Mangolicious Festival, and Chai Pakora Menu. Every three months, Café Delhi Heights provides guests with a booklet showcasing special menus and activities for that period. Notably, the brand is about to achieve a milestone of 6 lakhs juicy lucy burgers.
From introducing café culture to embracing casual dining and pioneering dishes like the Juicy Lucy burger, Café Delhi Heights takes pride in offering customers the best possible experience. The success of the brand is a result of the attitude and gratitude of the team, consistency, and the love of customers. Starting in an era where cafés were a new concept, Café Delhi Heights revolutionized café culture in the capital city with its extensive menu, which was truly innovative. As Café Delhi Heights celebrates its 12th anniversary, Vikrant Batra promises to continue serving the audience with more innovations, outlets, consistency, and love.