~ Martin Garrix India Tour 2023 – Eight shows across 8 Metros ushering in the Festival of Holi pan-India ~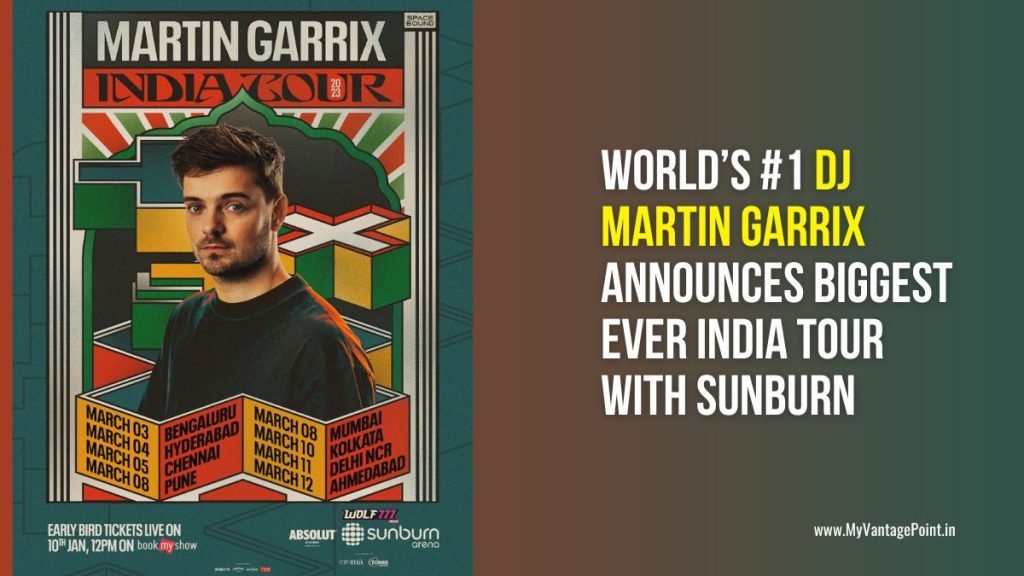 India, 9th January 2023 – This summer, acclaimed Dutch DJ/Producer Martin Garrix will embark on his most expansive-ever India tour, after a successful run in the region in the year 2018.
Fresh off the success of his Sentio World Tour and high-flying performances at Tomorrowland, Lollapalooza,UMF and Creamfields last year, the 26-year-old Dutchman is primed for his 6th visit to India. Billed as one of the "largest arena showcases to be witnessed in India" this year, the itinerary includes eight shows across eight major metros over a span of two weekends, presented by Asia's largest dance music festival, Sunburn.
The two-time MTV EMA winner and four-time World's #1 DJ will kick off his tour on 3rd March, 2023 in Bengaluru, followed by Hyderabad on 4th March, 2023 and then head to Chennai on 5th March, 2023. To usher in the Holi festivities, the acclaimed DJ will perform in Pune in the former half of the day and trek back to Mumbai to perform in the latter half of the day on 8th March, 2023. He will then perform on 10th March, 2023 in Kolkata, followed by New Delhi on 11th March, 2023 before culminating the tour in Ahmedabad on 12th March, 2023.
Since hitting the music scene in 2012, the superstar DJ/Producer is most well-known for his hits Animals, In the Name Of Love, Summer days and Scared to Be Lonely, and Indian audiences can expect a euphoric sold-out stadium performance.
Martin Garrix states,
''India is one of my favourite countries to perform at, so I'm super excited to finally return and party with all my fans. Hope to see you there!''
Karan Singh, CEO, Sunburn states,
"We are thrilled to announce an eight city Sunburn Arena tour with one of the biggest names from the global dance music circuit, Martin Garrix. We witnessed a stellar turnout at the DJ Snake Tour last year and it's only going to get bigger and better this year with live shows once again gaining a strong foothold in India."
Sunburn Arena is a sub-variant brand format created under the mega brand umbrella Sunburn, and with an aim to cater to dance music enthusiasts across various cities pan India and around the world. Sunburn Arena has played host to some of the world's leading DJs over the past few years including world renowned DJ Snake, Hardwell, Deadmau5, Afrojack, Armin van Buuren, Swedish House Mafia, Dash Berlin and Avicii.
Wolf777 News Sunburn Arena Martin Garrix Tour 2023 is presented by Absolute Glassware, co-powered by Croma and Tuborg Zero Packaged Drinking Water. Tickets will go live 10th Jan 12pm on bookmyshow.com. Prices start INR 1,000/- upwards.