7BANTAI'Z TAKE FANS THROUGH MUMBAI'S NOSTALGIC LANES WITH 'METER DOWN' FEATURING KAAM BHAARI
Popular Dharavi rappers 7Bantai'Z is back with a brand-new single 'Meter Down' featuring rapper Kaam Bhaari in association with Most Wanted Records.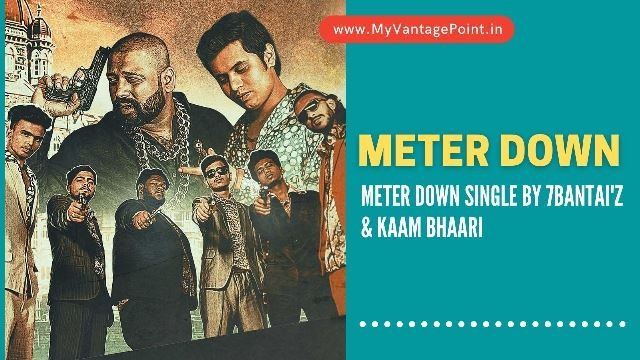 The track is a desi rap combination that features a smooth 80's vibe to it combined with a groovy, old 'Mumbaiya'/Bollywood look and feel in the music video. 
Composed by AAKASH, rappers Mr. Scam, Crackpot, Yoku B.I.G., Mc Notez, Sid J, Bonz N Ribz of 7Bantai'Z and Kaam Bhaari bring together an eclectic track with an interesting music video having a surprise cameo by the Gully Gang from Gully Boy's hip-hop artist D'EVIL.
From the 80's artwork down to the bell-bottomed suits worn by the artists, 7Bantai'Z were inspired by films like 'Don', 'Bombay to Goa' and others to re-create a classic filmy vibe.
The poster to the look and feel of the music video shows how they were inspired by old Bollywood films. The song's lyrics are a modern blend of rap, hip-hop, low-fi, trap energy with a killer hook that's going to be stuck in everyone's head.
The rap gang that began on the streets of Dharavi, 7Bantai'Z have been a crew since they were 13-14-year olds studying together.
They gained inspiration and guidance from famous rap gangs like Dharavi United and Dopeadelicz to learn the nuances of rap, hip-hop and soon the 7 members over the years rose to fame with a number of rap bangers in various languages. 
From working with Netflix to creating firecracker original songs, many more cool projects are in the pipeline
Rapper Kaam Bhaari aka Kunal Pandagle is a star power in Indian Rap/Hip-hop with his signature flow and lyrical prowess.
Post the success of Gully Boy in 2019, Kaam Bhaari went on to drop hit songs one after the other adding to his power-packed, thought-provoking catalog of work that saw him getting nominated for the prestigious European Music Awards 2020 (EMA) in the Best Indian Act category for his song 'Mohabbat'.
David Klyton aka Mr. Scam of 7Bantai'Z shared, 
"We are excited to take our fans back to the 80's and have them join us on this Meter Down ride. D'EVIL is one of the finest artists in the scene and we are very grateful we got him to be a part of it. Kaam Bhaari is the OG, when his part appears in the song you can't help but groove to it. He has such a great energy and is always good company. A lot of hard work went in and we hope it pays off."

Mr. Scam
Rapper Kaam Bhaari shared, 
"Mera aur 7Bantai'Z ka saath mein track banane ka plan Gully Boy se chal raha tha.. the beat by Aakash is super sick and I'm loving it. The boys who made the video, the Dropout team, their work is amazing! I'm thankful to be on this track with 7Bantai'Z"

Kaam Bhaari
Karan, Vice President of Most Wanted Records shared, "With every track by Most Wanted Records, we try to innovate and this time with Meter Down we are sure to give audiences a very unique combination of 7Bantai'Z and Kaam Bhaari. This is one of our first associations and we are looking forward to many more. The song and the video both are surely going to connect with the hearts of the youth"