Controversial Poonam Pandey has done it again. Recently the bombshell released her Hot Yoga video to encourage people for adopting a healthy lifestyle on International World Yoga Day on June 21.
Poonam's video has become instant popular on YouTube and has more than 25 lakh views at present. Surprizingly this hot yoga video for the time managed to beat Salman Khan's 'Bajrangi Bhaijaan' trailer in just three days of its release. While 'BB' trailer starring Salman Khan got 7 Lakh views in 3 days and 9.54 lakh in 6 days where as Poonam's video got 11 lakh views in 3 days and 20 lakh in 6 days.
She wore a blue color sports bra for the shoot with denim sports shorts with 'Royal Order' has been written on its back.

As always, she also made this video in her hot style and even go further this time by calling some position of Yoga as Doggystyle, Breast Aasana, and Hips don't lie Aasana. At last of the video she gave message to stay fit and stay healty to her viewers.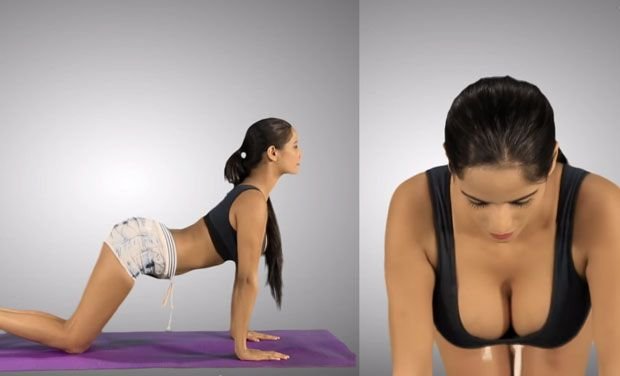 Click on Next Page Below ↓ to See Video And More Photos of this post 😉
[ezcol_1fifth][/ezcol_1fifth] [ezcol_1fifth][/ezcol_1fifth] [ezcol_1fifth][/ezcol_1fifth] [ezcol_1fifth][/ezcol_1fifth] [ezcol_1fifth_end][/ezcol_1fifth_end]