Vantage Point presents you Raksha Bandhan Gift Ideas for Siblings: The Ultimate Gadgets Gift-Guide to make this festive a memorable and heart-warming celebration.
New Delhi, August 23: With Raksha Bandhan around the corner, the joyous and doubtful mood of shopping for a perfect gift surrounds the air. While the festival is all about showing your affection, it's time for you to justify it with meaningful gifts for your beloved siblings. Here are some thoughtful gift ideas that can make this festive a memorable, meaningful, and heart-warming celebration.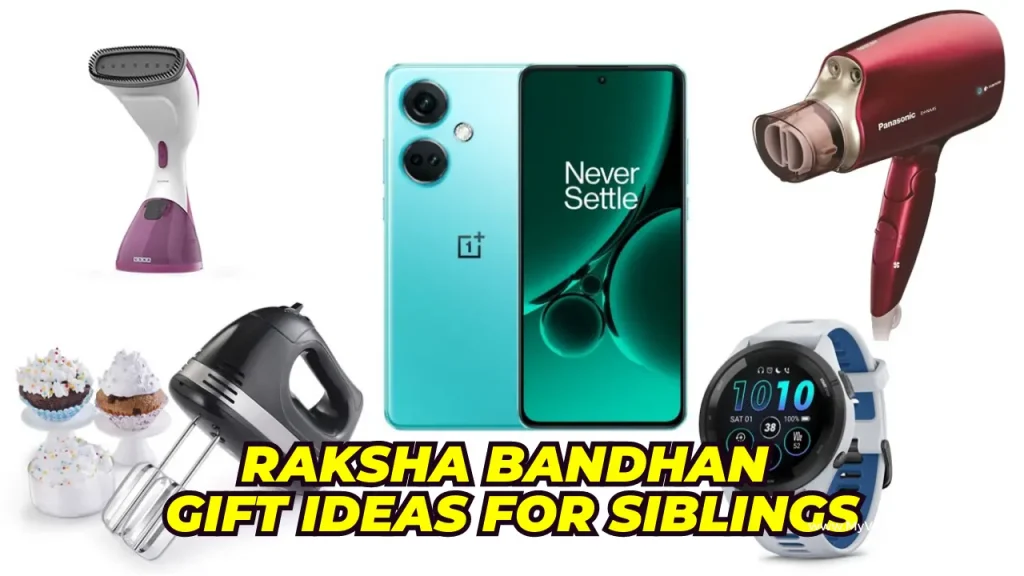 If your sibling is a hustler who's always keen for a polished look with minimal effort, or a fashion enthusiast who owns a wardrobe of all fabrics and patterns, or even a traveler who's got to have necessities handy, and many more – Usha's portable garment steamer is a serendipitous gift that ensures you step out looking impeccable and confident anywhere and anytime. Usha's Techne Direct 1000 Garment Steamer, with its powerful steam output, conditions clothes and gives them a wrinkle-free finish. It is a travel-ready, easy-to-carry product with minimal weight suited for all kinds of fabric and comes with a detachable lint removal brush, making it perfect for siblings who find comfort in ease.
Buy: Click Here | Price – INR 5,190
Celebrate the cherished bond of siblings with a gift that embodies both functionality and heartfelt connectivity. This Rakshabandhan, take your expression of love and care to the next level with the gift of a smartphone – a present that not only keeps you connected but also enriches every aspect of your sibling's life. The OnePlus Nord CE3 5G is powered by a Qualcomm Snapdragon 782G processor, chosen to provide the perfect balance between a power-packed performance and seamless power management. The device offers up to 12GB of RAM, resulting in a fast and smooth experience, more often found on flagship phones, enabling OnePlus Nord CE 3 to easily multitask between up to 24 apps at the same time. OnePlus Nord CE 3 features a super premium design with a 93.4% screen to body ratio and this design continues on the rear of the phone with two beautiful colourways, Aqua Surge and Gray Shimmer. Both colourways feature stainless steel camera surrounds to protect the 50 megapixel Sony IMX890 processor with enhanced portrait capabilities.
The OnePlus Nord CE 3 5G comes in two variants – the 8GB+128GB variant available at INR 26,999 and the 12GB+128GB variant available for purchase for INR 28,999
Help your sibling achieve salon-quality hair every day with the Panasonic Nanoe Hair Dryer. This innovative hair dryer utilizes advanced technology to reduce damage caused by everyday brushing and enhances hair smoothness and shine. Whether your sibling is getting ready for an important meeting or a casual hangout, this hair dryer will be their trusted styling companion. By gifting them this premium hair care tool, you're enhancing their daily routine and boosting their confidence.
Buy: Click Here | Price – INR 8,990
This Raksha Bandhan, honor your food-loving sibling's passion or elevate the art of cooking for your beloved sibling who is a chef or aspiring to be one. The Hand mixer 3732 has 5 speeds and a turbo setting for all that you need deliciously mixed in together. Removable hooks for easy cleaning and a Smart box that makes storing the appliance and its accessories easy – and you have yourself a super-efficient appliance, followed by a neat kitchen!
Buy: Click Here | Available at INR 3,390, every time your sibling uses it to create delectable dishes, they'll be reminded of the unwavering bond you share; Stir up a celebration of taste and togetherness!
The Garmin Forerunner 265 and 965 GPS running watches are the ultimate companions for your siblings' running adventures. These feature-packed watches offer detailed workout metrics like pace, distance, and heart rate, keeping them informed about their performance in real time. The built-in GPS helps them track their routes and explore new trails, while smart notifications ensure they stay connected without missing a beat. With personalized training plans and recovery features, these watches will motivate and guide your friends to achieve their fitness goals while adding a dash of fun to their runs.
Price for Forerunner 265: INR 50,490 and Forerunner 965: INR 67,490
Rakshabandhan is a celebration of the unique bond between siblings, and these lifestyle gifts add an extra layer of thoughtfulness to the occasion. Whether your sibling's focus is on health, skincare, or hair care, these gifts are sure to resonate with their interests and preferences. This year, let your gift not only symbolize your love but also reflect your understanding of their lifestyle. Happy Rakshabandhan!