• Awareness is essential to bridge the huge gap between demand and supply of organs
• Currently transplantation is done in less than 4% of all patients who need it
• Over four lakh transplantations are needed per annum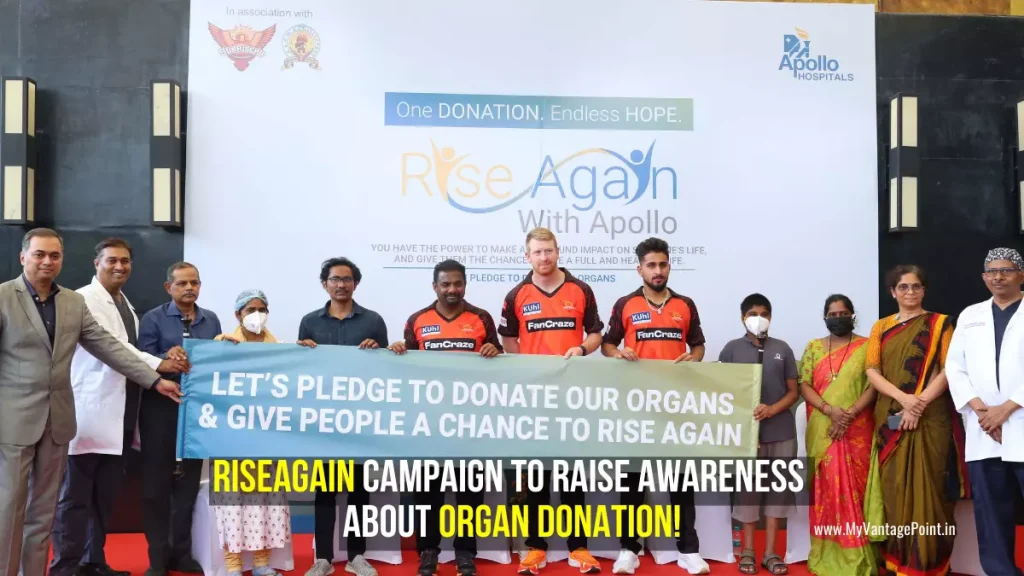 Hyderabad, 9th May, 2023: Apollo Hospitals in association with Sunrisers Hyderabad Cricket team and Jeevandan launch RiseAgain campaign to sensitise the population on the need to donate organs and provide a fresh lease of life to several terminally ill patients. Iconic cricketers from Sunrisers Hyderabad team, Muttiah Muralitharan, Umran Malik, Heinrich Klassen and others, along with Mr V. Tejesvi Rao, CEO, Apollo Hospitals, Jubilee Hills; Dr Ravinder Babu, Director – Medical Services, Apollo Hospitals; Dr Swarnalatha, CEO, Jeevandhan, Telangana; Dr P. V. Naresh Kumar, Sr. Consultant Cardiothoracic Vascular Surgeon, Apollo Hospitals; Dr K. Subramanyam, Sr. Consultant Renal Transplant, Apollo Hospitals; Dr Anand Ramamurthy, Consultant Liver Transplant Specialist, Apollo Hospitals; and Dr L Sasidhar Reddy, Consultant Liver Transplant & Hepato-Pancreatico-Biliary (HPB) Surgery, Apollo Hospitals; organ recipients, volunteers, doctors, general public, took a pledge to donate organs and encourage others to come forward and pledge their organs, today at Apollo Hospitals, Jubilee Hills.
RiseAgain
In India, the burden of end organ disease is steadily on the rise. Transplantation of liver, kidney, heart, lungs, pancreas and intestines has become the standard of care for the treatment of the respective organ failures, with a stupendous success rate of 90-95% across all organ types. However, despite the good outcomes, transplantation is done in less than 4% of all patients who need it. Approximately fifteen thousand transplantations are done, while there is a need for over four lakh transplantations per annum in India. The number of patients needing transplant is rising year on year and the gap is only widening. Currently, majority of transplantations in our country are done using live donor organs (organs borrowed from people who are alive). Healthy live donor can donate a kidney and a part of his liver, and it is established. This carries minimum risk of complications for the donor, post donation. However, transplantation of heart, lung and pancreas is possible only through donation of cadaveric organs.
Dr Ravinder Babu.says
We at Apollo Hospitals started this journey of transplantation program in 1990 and pioneered kidney, lever, lungs, heart and corneal transplantation. Till date we successfully did 4872 transplantations in our endeavor to keep touching as many lives as possible. We are extremely proud of our survival rates post organ transplantation, which match with the international standards. Apollo Hospitals has an excellent team of expert doctors, transplant nurses and capable support staff, who ensure the highest standard of care for each of our patients. The presence of Sunrisers Hyderabad team members' Muttiah Muralitharan, Umran Malik and Heinrich Klassen at this program makes a huge difference to organ transplantation initiative. Donation after death is the effective solution to address the problem, as it can provide all organs for transplantation in addition to safeguarding concerns about live donor safety. Each brain-dead person can save up to seven lives by donating their organs comprising of liver, both the kidneys, pancreas, intestines, heart and lungs, besides aiding patients in need of Corneas, Heart valves, skin, bones, vascularized composite tissues etc., 
Dr Swarnalatha said, 
Jeevandhan is a deceased donor organ transplantation program of Government of Telangana and the state is number one in terms of organ donation rate in the country. 0.8 mn people are dying because of lack of organs or cornea and the organ donation rate of the country is also 0.8 per million population. Our state's organ donation rate is 5.5 per million population. I thank the Government for providing all the support including the platform of Jeevandan and the financial support. It's said that organ donation is only for rich, even the poorest of the poor is able to access the organ transplantation program through Arogyasri coverage. Around 500 patients are benefiting from the transplant program in Government hospitals under Arogyasri. I also want to acknowledge and appreciate Apollo Hospitals, because it's been one of the strong partners of Jeevandan. We started this program a decade ago and Apollo Hospitals has been a part of various committees, they helped formalize various guidelines to streamline the entire organ donation program. As you are aware, organ donations have to come from the public, though the hospitals and government are geared up. Everyone here can pledge for the organ donation. We can seek the organs on the death of the person, when they no more require them, that way everyone can be useful to the society even after their death, therefore all of you come forward to pledge your organs. Celebrities like you can help spread the word far and wide.         
Speaking on the occasion Tejesvi Rao said, 
Organ donation is a gift of life, not just for the patient who receives it but also for his near and dear. Today there is a huge discrepancy between the number of organs available for transplantation and the people who need them. We need to devise ways to bridge this gap as quickly as possible to stem the number of deaths due to paucity of organs. Appreciate Sunrisers Hyderabad team members for joining in this initiative of Apollo Hospitals to sensitise the public on the need to donate organs and provide succor to patients in dire need of organs. Apollo Hospitals runs the world's largest multi-organ transplant program with results on par with the best in the world, he added.
Apollo Hospitals Transplant Institutes
The Apollo Transplant Institutes (ATI) is one of the world's largest and most comprehensive solid transplant programs. ATI offers a host of state-of-the-art services including Peritoneal and Hemo-Dialysis, Management of Liver Disease, Management of Kidney Disease, Liver and Kidney Transplantation, Corneal Transplantation, Heart and Lung Transplants, Intestinal, Pancreas and GI Transplant Surgeries and Pediatric Transplant Services.