India, 30 November 2020 – Sunburn, Asia's biggest Electronic Dance Music festival, announced the launch of their first-ever bespoke Beach Club experience – the Sunburn Beach Club, Goa. A venture by den liquor house LLP, a joint venture by Santosh Reddy and Dennis Shivani.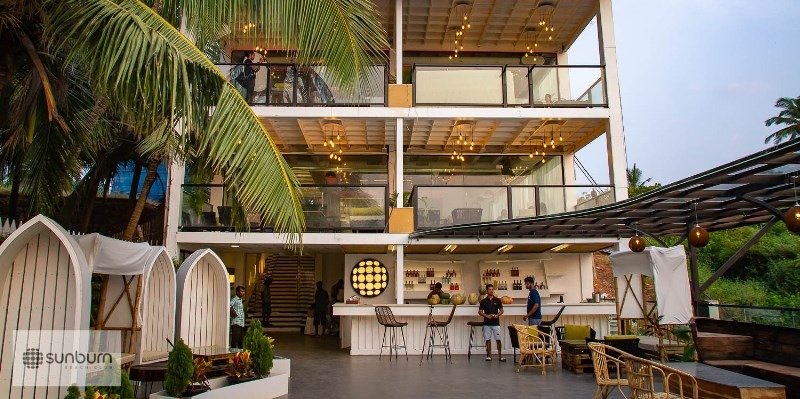 Thoughtfully designed by Vikram Singh Minas, of The Figmentist, the club sprawls over an expansive area that's nestled between the verdant coastlines of the Ozran Beach and sun-bathed green cliffs.
The Club boasts of a spectacular sky deck to luxurious indoor lounges to a glistening sun deck and a stunning pool deck.
The Sunburn Beach Club opened its doors with a precursor Sundowner followed by an After Party on 24th November which set the stage for what is to follow, a holistic immersive tranquil experience that takes guests closer to a blissful world.
At the Preview event, Sunburn Beach Club in association with COMO designers Collective presented a grand Fashion Show styled by the famous Ken Ferns along with Swpanila M from HD and Neha Asthana from The House of Poise and directed by Pallav Ojha from India Beach Fashion Week.
The show saw famous personalities like Oscar Pereira, Matt, Atul Chordia, Santosh Reddy, Suresh Reddy and Dennis Shivani grace the Red Carpet. The dance floor was set afire by famous DJs including Deepesh Sharma, Julia Bliss, Blithe, Zeeqar, Varun Fernandes, Akshit Shetty and Tejas Belkond.
The evening saw an eclectic mix of guests, celebrities and socialites from Goa, Hyderabad, Pune, Mumbai and Delhi.
Inspired by the gorgeous North Goan landscape, the idea was to create an elysium, an extraordinary experience that compliments the natural beauty that surrounds the club.
A laid-back luxe ambience complimented by a palette of monochrome and earthy hues with a neon-pop of orange symbolic of the sun, helped to set the tone and theme for the space.
From the expanse of space to a lit dance floor, leisure seating, cabanas, mood lighting and unrestricted views, it is nothing like anything Goa has ever seen before.
A short drive from Panjim transports you to this alluring tropical beach club with modernist décor, a beach access, a pool, bamboo-canopied cabanas, alfresco decks, open air terraces with slatted shading, monochrome-tiled beach bars, fine dining restaurant, and reverberating dance floor.
The lower deck is outfitted with blue tiles, a pool and quick access to the beach. Lined with sunbeds and large calico umbrellas, it's the perfect spot to soak in the panoramic view.
Patrons can also unwind at the beach while relaxing on plush cushioned chaise lounges or explore the waterfront with stand-up paddle boards.
Embracing authentic continental and European cuisines, the Sunburn Beach Club promises an assortment of gastronomic delights and eclectic selection of cocktails tastefully curated by Master Chef Ahmed Sha and Head Mixologist Sonaivel.
The environment offers a seamless day to night experience. By day, the modish establishment will have a laid-back lounge set dished out by acclaimed DJs, while effortlessly transitioning to a weekly performance venue featuring international and Indian artists for exclusive sunset sessions curated by Sunburn.
With an eye for the finest details, the Team at Sunburn has captured the essence of a beach escapade and transformed it into a place of whimsical wonder.
From Driftwood furniture, minimalist black-and-white striped tipis, clumps of wildflowers used as unfussy centerpieces, sepia-toned sculptural tables with earthy-colored linen from local markets, Sunburn Beach Club is a blissful melange of contemporary chic with an air of sophistication enhanced by stunning scenery!
Santosh Reddy, a Partner at Sunburn Beach Club says, "It is amazing to be a part of something extraordinary, something that pushes the boundaries of entertainment and goes beyond just partying. This is just the beginning and I look forward to endless possibilities on the horizon in the near future."
Dennis Shivani, another Partner of Sunburn Beach Club adds, "Sunburn Beach Club is very close to my heart and the look and feel of the club is luxurious with the access to the Ozran beach. I hope the tourists of Goa will enjoy the club to the core. The sky deck is my favourite area which takes you close to the stars."
Commenting on the launch Karan Singh, COO, Percept Live states,
"We are proud to add yet another unique dimension to our expanding entertainment experience. Sunburn Beach Club is pegged to be the perfect getaway where wanderlust meets tranquil panache. Our vision is to offer world-class hospitality at India's leading leisure destinations which in the long-term holds the promise of strategic development of Sunburn into a global lifestyle brand. Thirteen years ago, we brought what is now Asia's biggest music festival to Goa and it couldn't be a more nostalgic feeling to launch a brand-new initiative in the state that has helped build our brand lineage. Despite the challenges and countless obstacles of 2020, the past 12 months have been filled with reverberating discussions over our latest project – a long-time aspiration and milestone on our path to being the best music festival in Asia. We are overwhelmed by the staunch support expressed by the administration and patrons in Goa and around India and aim to continue offering bigger, better and more exciting scenes with each passing year."

Karan Singh
Sunburn Beach Club is open every day of the week from 12.30 pm onwards. The dress code is casual during the day and more sophisticated at night. Reservations will ensure the best views of the sea and sunset.
Keeping in mind the worldwide impact of COVID-19 on tourism and hospitality, the strictest safety and hygiene standards have been put in place.
From frequent sanitization of high-touch point areas to social distancing, temperature screening, and contactless payment; Sunburn Beach club, Goa is all set to welcome patrons to a whole new beach party destination!
For more details visit sunburnbeachclub.com