Luxury surface brand The House of Haique Ropes in Vaani Kapoor as a Brand Ambassador in its new campaign of Neo Marble and Terrazzo.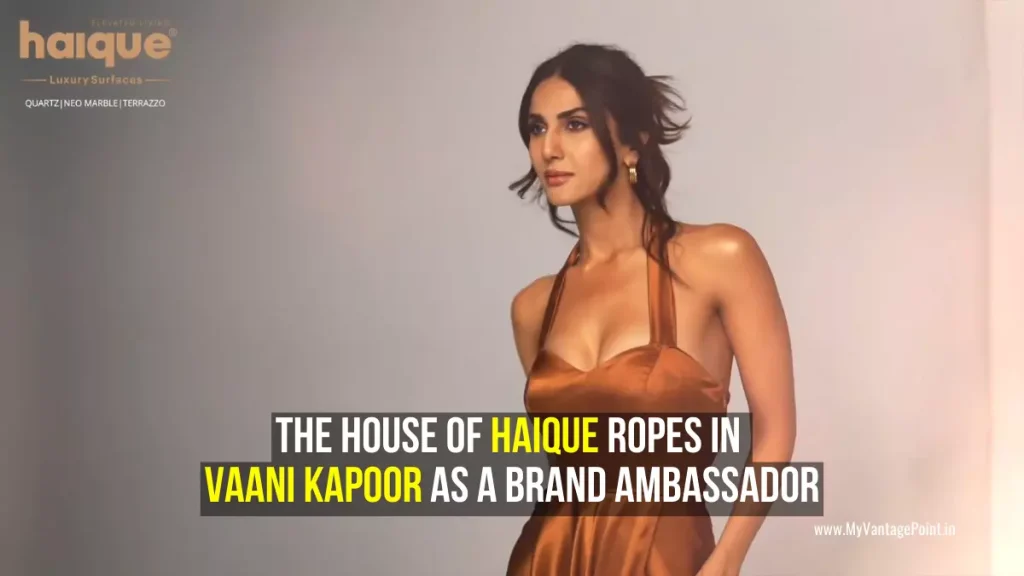 The House of Haique world's leading luxury surface brand driven by the purpose of enabling an elevated lifestyle for individuals, today announced that they have roped in Vaani Kapoor as its brand ambassador. The brand has collaborated with the popular Bollywood actress and youth icon to feature in its latest campaign which aims to connect the brand with all interior lovers who have a unique sense for luxury surfaces.
Vaani is one personality who always has her A-game forward when it comes to fashion. She is known for her elegant style and personality in the fashion industry. As the new face of the Brand, she will be promoting the brand across the masses.
Siddhanth Lunawath, Founder of The House of Haique
"We are delighted to have Vaani on our team, Her talent, beauty, and connection with the masses make her the perfect ambassador for our Brand. Haique has made good inroads with the leading developers in the country. It always has been our endeavor to position ourselves responsibly and with veracity and Vaani reflects those goals like no other. The campaign is about The House of Haique's new Neo Marble and Terrazzo launch. We have been able to build a good name in the Quartz segment in India and now it's time to launch our Neo Marble and Terrazzo."
Launching the new campaign, Ms. Vaani Kapoor said,
"I am absolutely thrilled to be the face of the world's first luxury surface brand The House of Haique inspired by fashion capitals of the world. It is a brand that aligns with my own values and beliefs, and I am thrilled to be associated with the brand and represent it among the Indian audience. The House of Haique works with India's best architects and Interior Designers and understands their needs in luxury surfaces to elevate their design schemes. I'm excited to be able to promote the brand among my fans and the audience through this partnership."
Over a period of time, The House of Haique has earned a reputation for its products within a short time and is amongst the top Indian Brands to be sold. There is still a lot of ground to cover for the House of Haique and the markets are positive toward the vision and mission. Neo Marble would be India's biggest game changer in the space in which the brand operates. The Slab size of 3250 x 1650 is India's biggest slab, 43% larger in size. Just imagine the savings towards unloading, storing, and seamless installation. The fraternity would understand such advantages in its villas and high-rise construction projects. On the Quartz surfaces, the brand will be launching new shades and very soon will be bringing a collection that only The House of Haique has the technical capability to manufacture.
The campaign's first commercial featuring Vaani can be viewed at: