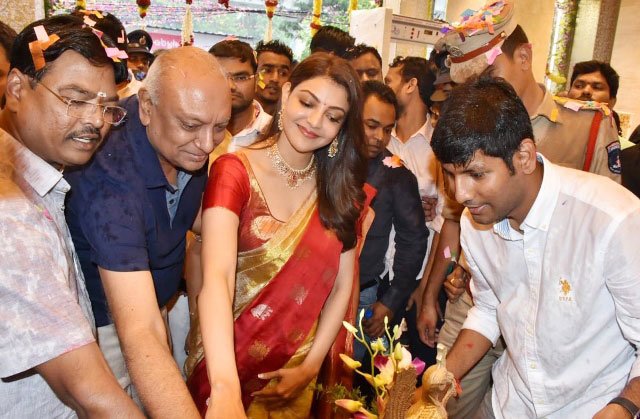 Maangalya Shopping Mall –the largest textile retail mart in Telangana,launched its 7th store spread over a lavish 25,000 sq. ft. shopping space at Kukatpally, Hyderabad. The Store was formally inaugurated by Chief Guest Shri Joginapally Santosh Kumar, MP, Rajya Sabha; in the presence of Celebrity Guest & Star Actress Kajal Aggarwal; Guests of Honour Shri Madhavaram Krishna Rao, MLA; Shri K. Naveen Kumar, MLC & Shri Mandadi Srinivasa Rao, Kukatpally Corporator; on Thursday at Kukatpally. Mr PN Murthy, Founder; Mr Kasam Namashivaya, Chairman; Mr Kasam Shivaprasad, Director & Mr Pulluru Arun, Director, Maangalya Shopping Malls were also present at the occasion.
Kajal Aggarwal said, I am delighted to launch the 5th Maangalya Shopping Mall, in the city, I inaugurated all the earlier four malls. This is their 7th Mall in Telangana, they are going to open 5 more malls next year and I am going to open all of them. This is a complete family shopping mall, with the biggest collection and all of them are the latest fashion, every member of the family will find his choice of dress here.
A legacy of 77 years in the world of textiles, Shri P.N. Murthy Garu and Shri Kasam Namashivaya Garu established the Kasam Group as a multi-brand store in Hanamkonda in 1942. We launched "Maangalya Shopping Mall" as a brand in Warangal, nurtured it by providing our customers with great quality, consistently amazing service and affordable prices. 
Therefore, our popularity, as well as the demand, grew and we entered the Hyderabad market in January 2019 with a showroom at Madeenaguda. True to our name, we ensured that Hyderabadi customers were introduced to our vast collection of unique designs and latest trends. Our great first impression on both the chief guests as well the general population lead to the successful launch of our second store at Boduppal in March 2019. 
The launch witnessed a massive customer presence and graced by leading celebrities guests and officials. From here on our success and growth has known no full-stops. With one store to another, and from one location to new destinations, Maangalya Shopping Mall has made a royal mark in the city of Hyderabad with a loyal following. It is because of our commitment to offering the widest range of designs and collections in all amazing colours and styles, and above all its inexpensive pricing.
Our latest fashion heaven in Kukatpally has 4 floors that are exclusively dedicated to Sarees, Western wear, Silk selection, Kids' collection and men's wear. Apart from these locations in Hyderabad, we will soon open more stores at other prominent locations by the end of this year.
Best known for our vast variety of wedding sarees, Maangalya Shopping Mall makes the wedding even more special with bespoke collections and designs. We value our customer's fashion aspirations and style preferences like no other textile house in Telangana. And proudly undertake every initiative to fulfil them. To every such family that especially celebrates shopping; we have become their favourite destination of a complete family shopping. 
We are currently a team of 2000 employees, with an extended family of 8000! Our earnest and dedicated employees with the support of their family members have powered us to become the largest textile empire in Telangana.