In a surprise stint, Mimi Chakraborty becomes the first female actor in Tollywood to sing for the first time an unplugged version of the popular song of her film 'Keno Je Toke' from her upcoming film Mon Jaane Na. The music video, soon to be released by SVF Music, is called 'Keno Je Toke – reprised' and will be featuring the beautiful actor herself in the video.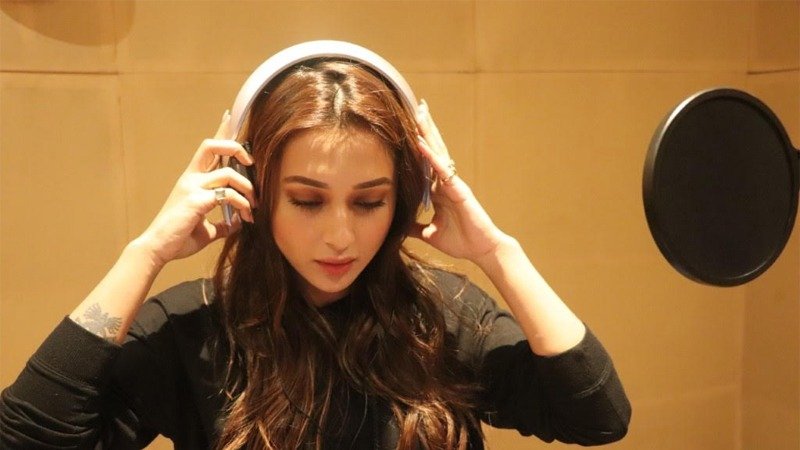 Talking about this new dimension in her career, the talented actor goes on to say: 'After the song 'Keno Je Toke' became an instant hit, I was asked to sing a reprised version of the song. I usually sing for myself. It was honestly a very nerve-wracking moment for me, but I enjoyed every bit of it because I love singing, apart from acting and had thought of having my own album one day' 
'Keno Je Toke – reprised' music video featuring and sung by Mimi and produced by SVF Music, is scheduled to release soon. 
Mon Jaane Na directed by Shagufta Rafique and starring Mimi, Yash & others is scheduled to release Holi 2019 .Below are snapshots from various moments of her recording:.
ABOUT SVF: 
SVF is Eastern India's largest entertainment company, having business interests in Film Production, Television Content Production, Film Distribution, Digital Cinema, Music, New Media and Cinemas.  
SVF has successfully produced over 120 films including National Award winning 'Chokher Bali', 'Raincoat', 'Memories in March', 'Chitrangada' and 'Chotoder Chobi'; blockbusters like 'Challenge 2', 'Chander Pahar', 'Zulfiqar', 'Yeti Obhijaan', 'Amazon Obhijaan', 'Guptodhoner Sondhane', 'Byomkesh Gowtro', 'Ek Je Chhilo Raja' and critically acclaimed 'Meghe Dhaka Tara', 'Cinemawala', 'Dhananjoy', 'Asche Abar Shabor', 'Aami Ashbo Phirey', 'Uma', 'Generation Aami' to name a few. SVF's newest venture is hoichoi, a one-stop online destination for Bengali entertainment – an on-demand video streaming Website and App with over 500 Movies and Original Web Series, Original Films, Original Shorts and soon, Documentaries. Hoichoi also added audio streaming section from April 2018. (The Hoichoi App is available for download on iTunes – http://bit.ly/iTunesHCDownload and Android – http://bit.ly/AndroidHCDownload) 
ABOUT SVF Music: 
SVF Music is the largest library of contemporary Bengali songs, providing a platform for collaboration of national and international artistes. A music label that thrives on not just film-music, but independent original music as well, SVF Music organizes musical concerts and music tours, incorporating artistes beyond borders. With unique and engaging content across all audio-visual platforms in India and globally, the SVF Music label has the maximum reach of top musicians and artistes of the industry. SVF Music's content is available on OTT and Web streaming platforms, in India and globally. Awarded the Silver Play Button by YouTube, SVF Music – with 900+ songs, is now a family of more than 1,50,000 subscribers, and has garnered a whooping 30 million+ video views and counting!