A notable team of global ambassadors, an introspective visual marketing campaign, trend-setting new styles, and comfort innovation – being comfortable in your own shoes has never been better.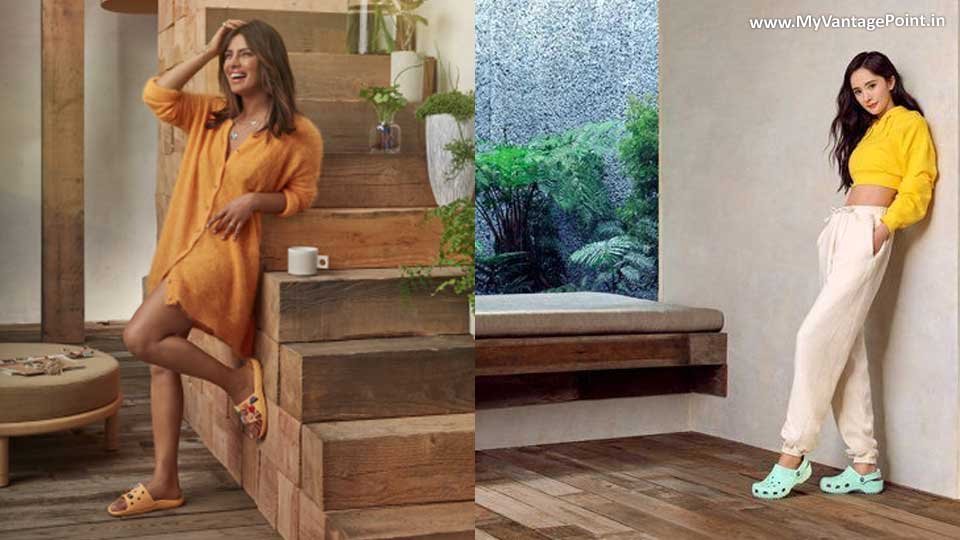 Crocs, Inc. a global leader in innovative casual footwear for women, men, and children, today launched the fourth year of its "Come As You Are" global marketing campaign including new top-tier talent, as well as new product innovations for spring 2020.
New to the Crocs global ambassador roster are Priyanka Chopra Jonas, actor, producer and global UNICEF ambassador; and Yang Mi, renowned Chinese actress. Both join U.S. singer and actress Zooey Deschanel, South Korean singer and actress Kim Sejeong, and Japanese actress Suzu Hirose.
As global ambassadors for the Crocs brand in 2020, they will inspire fans to feel comfortable in their own shoes by showing their personal Crocs style through exciting new collections, and encouraging everyone to come as they are through inspirational content and activations throughout the year.
In addition to the global ambassadors, Crocs has also enlisted a diverse cast of models and influencers recognized as "One-Of-A-Kinds" to bring more personal meaning to the "Come As You Are" brand message. This new cast represent different ages, backgrounds, beliefs, orientations, and abilities to welcome all Crocs fansto express their individuality and be comfortable in their own shoes. The influencers and models will be featured in campaign photography and imagery that will be leveraged in 2020, and will be encouraged to engage with fans through forums like social media to show that everyone is welcome and empowered to be a part of the Crocs brand.
"The fourth iteration of the Come As You Are campaign is a proclamation to our fans: It's time to stand up and stand out," said Terence Reilly, Crocs Chief Marketing Officer. "Our new lineup of global brand ambassadors and 'One-Of-A-Kinds'ambassadors offers the perfect mix of star power and authentic representation to help CrocNation feel empowered and emboldened to own who they are."
Alongside the "Come As You Are" brand campaign, Crocs'marketing efforts will focus on new, style-forward products, as well as continued leadership in footwear comfort innovation, including the spring launch of the "must have" shoe of 2020: the Women's Crocs Brooklyn Wedge. Available in a variety of heel heights, colorways and sophisticated yet simple silhouettes, each wedge features sensationally comfortable LiteRide™ foam technology. The lightweight construction, intuitive upper straps and revolutionary comfort technology create effortless style, superior all-day comfort and ultimate wardrobe versatility.
A selection of core products you can expect to see this spring as part of the Crocs portfolio include:
· LiteRide™ – This collection was created to be worn on your terms, at any pace. Featuring LiteRide™ foam footbeds, the latest breakthrough in world-class comfort, LiteRide™ shoes are engineered to make you feel sensational with every step along life's winding path. Take a ride in the superbly cushioned Clog, Pacer sneaker, or revamped Women's Stretch Sandal.
· Crocs Sandal Shop – There's more to Crocs than just clogs. With exciting new products and a perfect pair for every wear, the Sandal Shop features must-have sandals, slides, and wedges for the season including the all new, elevated Crocs Brooklyn Wedge and strappy Crocs Tulum Collections, as well as favorites like the revamped Classic Crocs Slide and Swiftwater™ Collection.
· Classics and Jibbitz™ charms -Consumers can also expect to see the classic clogs and slides they know and love in new, trend-right colorways like Cantaloupe, Neo Mint, Lemon and Electric Pink. Jibbitz™ charms will also be prevalent with new styles available constantly throughout the year based on consumer trends and seasonality, encouraging consumers to add a personalized touch to further express their own style.
"Day or night, beach or city street, Crocs has a shoe for every person and every occasion," says Reilly. "As this year's roster of ambassadors share how they style some of our most popular products – from our Classic Clogs and Slides to the new Crocs Brooklyn Wedge which is THE shoe of 2020 – they'll infuse their own personalities, showcasing how self-expression, comfort and style are not mutually exclusive."
To help spread the word, "Come As You Are" will be seen through various digital, social, print, and in-store marketing materials with a global focus on countries including United States, Germany, China, Japan, and South Korea.
To learn more about the "Come As You Are" campaign, visit www.crocs.com/comeasyouare.
About Crocs, Inc.
Crocs, Inc. (Nasdaq: CROX) is a world leader in innovative casual footwear for women, men, and children, combining comfort and style with a value that consumers know and love. The vast majority ofCrocs™ shoes featureCroslite™ material, a proprietary, molded footwear technology, delivering extraordinary comfort with each step.
In 2020, Crocs will reinforce its mission of "everyone comfortable in their own shoes" with the fourth year of its global Come As You Are™ campaign. To learn more about Crocs or Come.