If you've been drawn into the captivating world of Dimple Kapadia's Saas, Bahu Aur Flamingo, then you're probably already familiar with the adrenaline-fueled rush of crime dramas. Starring a talented ensemble cast including Radhika Madan, Isha Talwar, Angira Dhar, Deepak Dobriyal, Monica Dogra, and Naseeruddin Shah in pivotal roles, Saas Bahu Aur Flamingo delves into the story of Rani – a dominant and cunning matriarch who heads a drug cartel in the sleepy town of Hastipur. The series is a rollercoaster ride of intrigue, betrayal, and intense drama, making it the perfect choice for anyone with a penchant for gripping crime thrillers.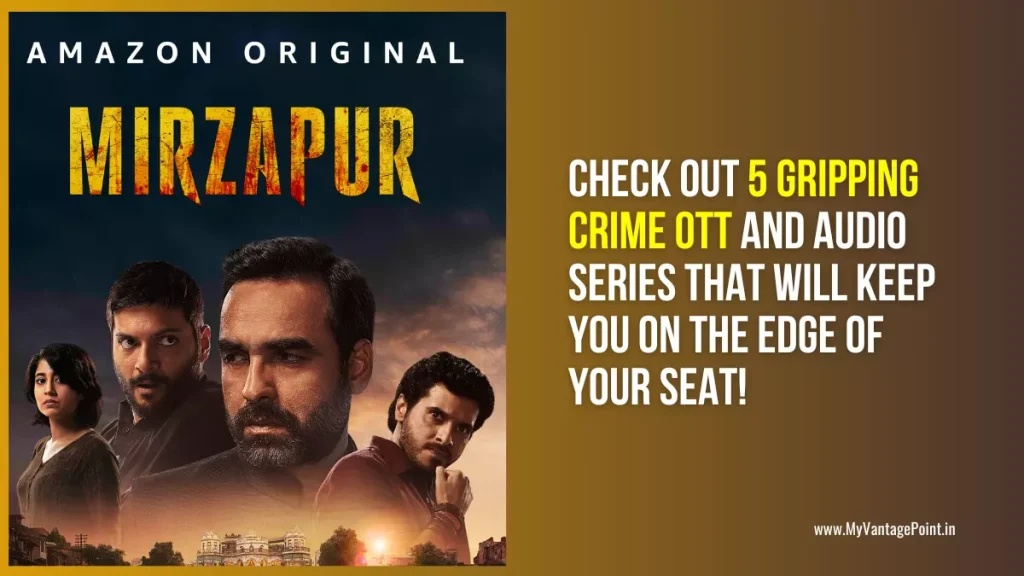 But if you're looking for more shows to satisfy your craving for pulse-pounding entertainment, then we've got you covered. Here's a list of five crime dramas that are just as thrilling and binge-worthy as Saas Bahu Aur Flamingo. So, get ready to discover your next obsession as we dive into these gripping and addictive shows.
Mirzapur
Mirzapur on Prime Video is a must-watch crime drama series that takes you on a thrilling ride through the dark and dangerous world of the Indian mafia. With a talented ensemble cast led by the incomparable Pankaj Tripathi, the show offers a gripping narrative filled with action, suspense, and drama. Set in the lawless town of Mirzapur, the series explores the ruthless and cut-throat power struggle between the mafia don and his ambitious son, and two brothers who find themselves caught up in the web of deceit and violence. The characters are complex, flawed, and compelling, and the writing is top-notch, making Mirzapur a standout show that's not to be missed. Whether you're a fan of crime dramas or just looking for a thrilling and engaging series to binge-watch, Mirzapur is a must-watch that won't disappoint.
Ek Agent Ek Haseena
Ek Agent Ek Haseena on Pocket FM is a gripping crime drama that will keep you hooked till the very end. The show follows the story of Samar Pratap Singh, a retired secret agent, who visits Mumbai to meet his fiancée Shalini, a successful CEO. However, things aren't as simple as they seem, as Samar has a hidden agenda. The show features a talented cast, including popular actors like Rajeev Khandelwal and Madhura Naik, who deliver powerful performances. With an intriguing plot, unexpected twists, and edge-of-the-seat suspense, Ek Agent Ek Haseena is a must-listen for fans of the crime genre.
Aarya
Aarya on Disney+Hotstar packs a punch with its gripping storyline, exceptional performances, and nail-biting suspense. Starring Sushmita Sen in the lead role, the show follows the journey of a strong-willed mother who takes on the dangerous world of organized crime to protect her family. The show's portrayal of a woman breaking free from societal norms to become a force to be reckoned with is inspiring and empowering. The series is a perfect blend of emotion, action, and drama, making it an addictive watch. With an impressive supporting cast and well-crafted plot twists, Aarya is a standout series that has captured the attention of audiences both in India and internationally.
Dharavi Bank
If you're looking for a gritty and intense crime drama, look no further than Dharavi Bank on MX Player, which explores the world of organized crime in one of the largest slums in Asia. The series follows the rise of Thalaivan, played by Suniel Shetty, as he becomes the most influential person in Dharavi and a Godman to many politicians. However, his reign is threatened when the Chief Minister orders JCP Jayant Gavaskar, played by Vivek Oberoi, to take him down. What follows is a gripping tale of revenge and power struggle between the Mumbai police and Thalaivan's gang. With an impressive cast and a well-crafted storyline, Dharavi Bank offers a unique perspective on the underworld and the nexus between politics and organized crime. Suniel Shetty's OTT debut performance is especially noteworthy, making this series a must-watch for all crime drama enthusiasts.
Sacred Games
Sacred Games on Netflix deftly weaves together a complex narrative that delves into the dark underbelly of Mumbai's criminal underworld. With a gripping storyline and masterful performances from actors Saif Ali Khan and Nawazuddin Siddiqui, the show takes you on a rollercoaster ride of emotions, as you witness the gritty reality of corruption, politics, and power. The series is as much about the characters as it is about the story, and each of them is well-developed, leaving you invested in their lives and the decisions they make. The show's themes of religion, politics, and the corrupt Godmen add layers of complexity and intrigue, making it an unmissable watch for fans of crime dramas.