Japan's legendary studio, Shochiku kick starts the theatrical release of Pan Nalin's LAST FILM SHOW (Chhello Show) across Japan. Just in Tokyo alone the film opens in 24 Cinemas today, director Pan Nalin and producer Dheer Momaya will meet and greet audiences in Tokyo throughout this weekend; starting with an exclusive show in presence of celebrated star Ken Koga at the Shinjuku Piccadilly, which is Shochiku's flagship cinema.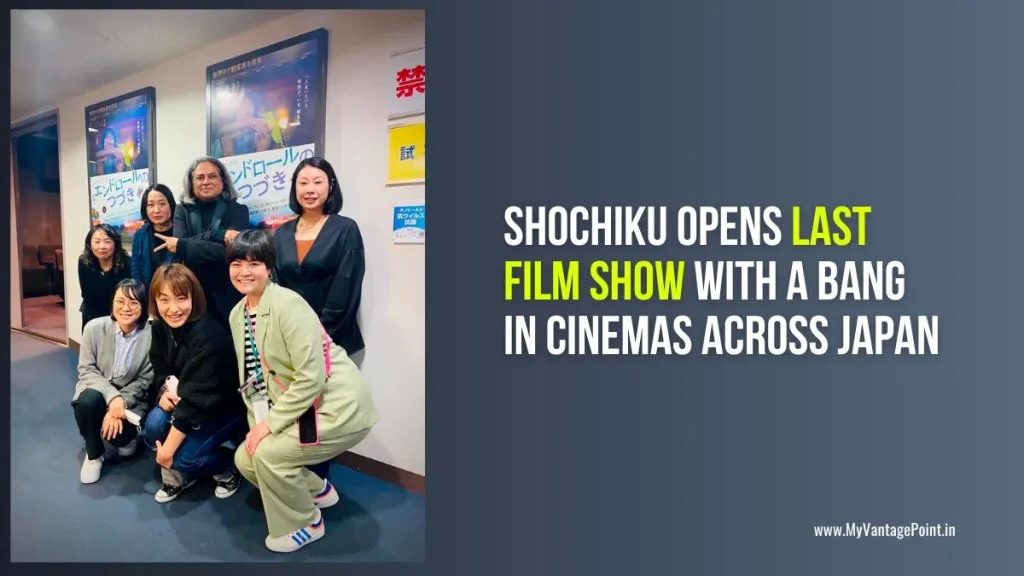 Reiko Hakui, Head of Acquisition at Shochiku said,
"We fell in love with this beautiful and inspiring story instantly. This film is not only a love letter to cinema, but also full of love towards family, friends and the pure innocence of following your dream without doubt. We are honored to introduce this wonderful gem from India to the Japanese audience."
The Shochiku Group is a giant comprehensive group of entertainment corporations formed of the three major pillars of audio and video, and theatre. Shochiku throughout their history of over 120 years, from Kabuki to Cinema to Anime, are pioneers of the Japanese performing arts. Since 1895, Shochiku has been a part of the Japanese motion picture industry including Japanese Animation. They produced Japan's first talkie film and color film. They have produced many Japanese masters from Ozu, Kurosawa, Mizoguchi to Kitano. That also demonstrates their love for acquisition of Last Film Show because Shochiku remains a total entertainment company but dedicated to great Cinema.
Masahiro Yamanaka, who is Operating Officer of the Motion picture & Acquisitions Division at Shochiku shared his excitement, 
"First of all, to be selected to represent India in this year's Indian film industry, where there were many strong contenders, is a truly great achievement. Furthermore, being shortlisted means that the Academy members have recognized the real value of the film, and we think this film truly deserves it.In addition to the love to cinema, we found it really fascinating that the audience can be genuinely excited by the adventures of a curious boy with his rambunctious friends! It's a beautiful tale of a boy's growth, and the true love that parents have for their children, which is a universal and timeless theme. The film has the power to win the hearts of audiences around the world, and the fact is that the film has won numerous audience awards and been distributed in many different countries. We believe that Japanese audiences will also feel the magic of this film."
Writer–Director Pan Nalin added,
"Shochiku started making movies more than a hundred years ago, It's not only a studio but a monument to Japanese Cinema, and major a milestone in the history of Cinema. As a young film buff I must have watched Shochiku Studio's motion logo hundreds of times before the start of movies from masters like Kurosawa, Ozu, Yamada, Nakata; so today, being here in Japan, it feels like a dream come true that Shochiku logo is spearheading LAST FILM SHOW as it opens today in cinemas. Shochiku team has been doing some most innovative marketing using themes like films, food and fashion from Last Film Show. The press and media here have embraced the film by garnering with top star reviews. And during this first weekend I am super excited to meet the Japanese audience because the initial response from the preview shows has been overwhelming."
Producer Dheer Momaya who is also in Japan with Executive Producer Dar Gai shared his excitement,
" This is my first time in Japan, and what a way to discover this rich country, over the theatrical release of Last Film Show. We can learn so much from Shochiku and Japanese distribution system, and how they nurture the film, and carry it all the way to the audience with minutely planned out marketing. The initial response from Japanese audience has been fantastic, and the love for our film keeps spreading…"
LAST FILM SHOW, has been shortlisted for the Best International Feature at the 95th Oscars. It held its World Premiere as an Opening Film of Spotlight at the Tribeca Film Festival in New York. Since then the movie has won dozens of Award from across the globe including Best Picture at SEMINCI 66th Valladolid Intl Film Festival Spain, Audience Favorite Awards at Mill Valley California, Best Picture Snow Leopard at Asian World Film Festival of Los Angeles, Best Picture & Best Director nominations at BAFICI Argentina, Beijing China, and so on.
The film is produced by Dheer Momaya (Jugaad Motion Picture), Siddharth Roy Kapur (Roy Kapur Films), and Pan Nalin (Monsoon Films) in co-production with France's Virginie Lacombe (Virginie Films) and Eric Dupont (Incognito films).