VYRL Originals presents…"CHEATER MOHAN" from the multifaceted – singer, songwriter & fashion icon KANIKA KAPOOR.
Composed & sung by Kanika Kapoor and written by Shabir Ahmed, "Cheater Mohan" ft. singer/songwriter/rapper IKKA, is an out an out FUN song in the same vein as her Bollywood blockbusters "Baby Doll" and "Chittiyan Kalaiyan" – songs that had the entire nation shaking a leg!
With an infectious hook, a sing-a-long chorus and a contemporary pop / dance beat, the song is signature Kanika Kapoor meant for audiences of all ages and for celebrations of every kind!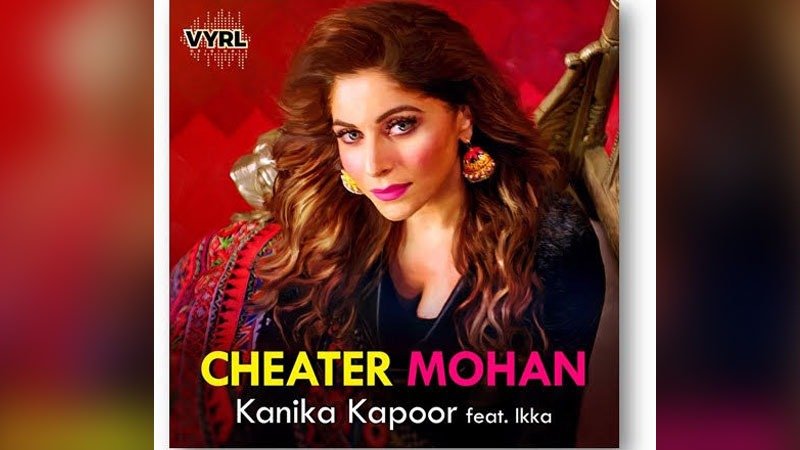 The official music video compliments the song with its vibrant colors and quirky characters. This one is guaranteed to put a smile on our face and a groove on your feet! "Cheater Mohan" is choreographed & directed by popular Bollywood choreographer – Adil Sheikh
Ecstatic on the release, Kanika Kapoor says "I had a gala time working on this track and it has been difficult to wait till it releases. The song, the beats, the music is a wonderful amalgamation and I am so happy to share it with everyone."
Acclaimed film director Mohit Suri shares "Kanika is a gifted artist and a hardworking talent. She is going to achieve great strides in her career and we are hoping "Cheater Mohan" is one such milestone for her. It is an addictive track and the entire team keeps singing it. Kanika is a bundle of positive energy and this transpires in all her songs. We are truly glad to collaborate with her and hopefully will keep this going."
Speaking on the release Vinit Thakkar, Senior Vice President, Universal Music Group India & South Asia added "Kanika Kapoor is a talented, young woman and it has been a fantastic experience to work with her. We are truly ecstatic to release this song and are certain that the audiences will immediately take to it."
"Cheater Mohan" from Kanika Kapoor is now available worldwide across all digital services exclusively on Universal Music.
Watch Cheater Mohan by Kanika Kapoor
About Kanika Kapoor
Kanika Kapoor is a British singer of Indian descent who has made her mark through her soulful Sufi inspired Hindi music. She has trained for twelve years in Indian classical music under the expert tutelage of Pt. Ganesh Prasad Mishra since the age of 7. She completed her master's degree in Indian classical musicat Bhatkande Music College in 1999 and then took the professional leap into the realm of music in order to fulfill her lifelong dream when she moved to Londonat the age of 18. A trained classical singer being a versatile vocalist, Kanika is an incredible talent and multi-dimensional performer.
It was in 2012 that Kanika Kapoor struck gold with her very first commercial outing. Produced by the British mogul, Dr. Zeus, "Jugni Ji" became a runawayYouTube sensation; garnering over a million views and earmarking her as a special talent to watch out for. Such was the buzz created by her debut successacross the globe, that in 2013, she was roped in by Ekta Kapoor to lend her soulful voice to a song for the movie "Ragini MMS". That song turned out to be"Baby Doll" and the rest as they say is history! Picturized on the sultry Sunny Leone, in association with the Meet Brothers; the track has gone on to take theentire nation and globe by storm like never before. Having garnered over 50 million YouTube views, it then went on to become the most downloaded Bollywood track on iTunes! In fact, the song became such a rage that the organizers of the IPL specially included Kanika Kapoor alongside superstar, SRK,to headline its opening ceremony on public demand!
VYRL Originals – An EMI Records India property.
VYRL Originals is EMI Music India's latest music property created to promote independent non-film music. This unique property is once again led by noted film director Mohit Suri – known for his excellent taste in music. Mohit will be curating every aspect of each track that is being produced. Right from the composers, lyricists to the singers, each of them have been carefully worked on and handpicked by the director himself. The sound will be in line with contemporary Bollywood music with great production values, albeit without the canvass of a film. The tracks under VYRL Originals will be launched simultaneously across every streaming service – in India as well as Globally – and will sit amongst today's popular Bollywood songs giving the music lover a seamless listening experience. The property launched January`18 with the gorgeous ballad "Teri Yaad" by Yash Narvekar and is currently sitting high on charts and playlists across streaming services.