It's no secret that protein is an important part of our diet and that we need to consume it every day. Protein supplements are one of the most important supplement or supplement group of all as they are made up of essential ingredients that are vital to the health and development of our bodies.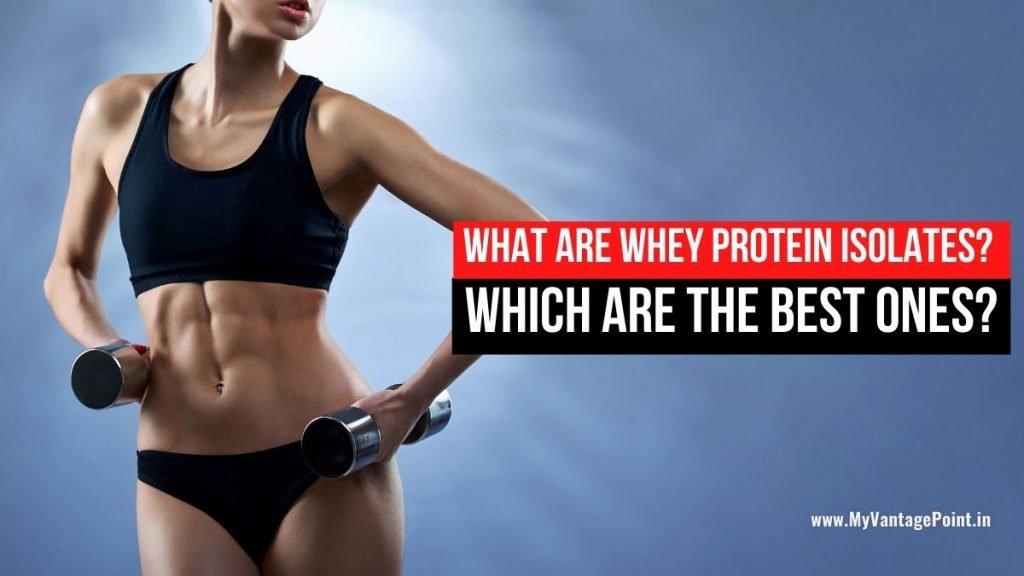 Whey protein supplements are often used by athletes and bodybuilders to aid in muscle recovery and repair, and improve fitness as well as performance, as they provide essential amino acids that can't be produced by the body, alone. Whey is absorbed quickly by the body aiding in quick recovery for the person's next workout.
What are Whey Protein Isolates?
Whey is a by-product created during the process of cheese production. Whey isolate is a protein powder that has been isolated from whey and is a purer form of whey protein, containing less fat and lactose than whey concentrate. This means that it is a great choice for those who avoid dairy products.
In India, there is a wide variety of whey protein isolates on offer, making it difficult to choose the one most suited to your needs. We, therefore, have researched the offerings in the market to make this consolidated list of whey protein isolates, based on their quality, nutritional values, ingredients, budgets and other factors to help you choose from the best.
(1) BUILD. 100% Whey Isolate
Every day, more Indians are moving towards a healthier lifestyle. While a proper diet and exercise are essential to achieve your fitness goals, the addition of the right health supplements is essential for the repair and recovery of muscles.
One of India's best protein health supplements is BUILD. 100% Whey Isolate, and is made of superior quality whey isolate protein powder, which provides 25 grams of pure whey protein in each scoop. It improves the rate of muscle recovery and helps losing fat quicker. It can be used not just by gym goers, but by anyone who is aiming to lead an active and healthy lifestyle. BUILD. 100% Isolate enriches you with protein and all essential amino acids, thus providing energy and improving stamina. BUILD.'s supplements are at par with international standards of supplements.
This power packed and tasty protein option is available for Rs. 3,629/- for 1 kg pack and 7,139/- for 2 kg pack on the brand's website (https://buildyourgoals.com/), and is offered in 2 flavours: Belgium Chocolate and French Vanilla.
(2) Optimum Nutrition Gold Standard 100% Whey
As the world's best-selling whey protein powder, Optimum Nutrition's Gold Standard 100% Whey uses pure Whey Protein Isolates as the primary ingredient. Combined with ultra-filtered whey protein concentrate, each serving provides 24 grams of all-whey protein and just one gram of sugar.
With more than 20 tempting flavors to choose from, ON's Gold Standard 100% Whey gives you plenty of ways to keep workout recovery interesting. There's no doubt this is the standard by which all other whey proteins are measured.
Gold Standard 100% Whey is available at Rs. 3,099/- for the 0.9 kg pack and Rs. 6,479/- for the 2.2 kg pack.
(3) Nutrabay Gold 100% Whey Protein Isolate
It is designed to give you a rich protein source for building muscle and faster recovery. It is complemented with an enzyme blend for improved digestion, higher and faster protein absorption. We use one of the highest quality ingredients available in the market to ensure that you get the best results. Our unique, highly researched and best in class flavours get you a delicious whey protein shake that you would love drinking every time.
Nutrabay always focuses on creating dynamic, cutting-edge, and result-oriented products. Our brand's aim is to provide purity with good results without any harmful ingredients. Before dispatching products from our manufacturing facilities there are strict and multiple layers of quality check parameters that help us in delivering the highest standard products.
The series is available at a cost of Rs. 2,829/- for the 1 kg pack and Rs. 5,529 for the 2 kg pack.
(4) Dymatize ISO100 Hydrolyzed – 100% Whey Protein Isolate
Dymatize ISO 100 Protein is a superior whey protein supplement that contains 100% hydrolysed whey protein isolate that facilitates quick digestion as well as absorption. Each serving (30g) of the supplement provides 25 grams of protein. The BCAA content in the supplement helps in restoring the amino acids after a strenuous workout to speed up the recovery of the muscles.
Dymatize Iso 100 Protein is ideal for bodybuilders since it helps in gaining lean muscle and also in quick recovery of the muscles after a vigorous workout. It contains the required level of protein for maximum muscle growth and volume.
Dynamatize ISO 100 Protein's 2.2 kg pack can be purchased for Rs. 10,699/-
(5) MuscleBlaze Raw Whey Isolate
MuscleBlaze Raw Whey Isolate is a Whey Isolate product, which delivers 27g of pure Whey Isolate per serving. The product comes with nearly 5.9g of naturally occurring BCAAs and is free from any amino spiking, which essentially means all the amino acids are existing in the raw material itself.
The naturally occurring BCAAs in the product help in reducing muscle soreness when consumed before and after a rigorous workout session. The potent BCAAs include Leucine, Isoleucine and Valine which aid to reduce fatigue, enhance muscular strength and rapid muscle recovery.
The product contains naturally occurring amino acids which amount to 27g of protein and is free from any amino spiking to jack up the protein content in the product. All the essential, non-essential and semi-essential amino acids occur as per the natural profile of the whey protein concentrate.
This series is available at a cost of Rs. 5,899/- for the 2.2 kg pack and Rs. 2,999/- for the 1.6 kg pack.
Through our thorough research, we have been able to come to the conclusion that the supplements in this list are one of the best whey protein isolates that one can buy. These products are all made using the finest practises and ingredients, and have been found to deliver great results.