Still running in Week 6 proving the Power of Good Content;
Moving steadily to a '50 day run' milestone in Cinemas!!
Week 1- 35.41, Week 2- 16.42cr; Week 3 – 7.03cr, Week 4 – 3.28cr,
Week 5- 2.77cr, Week 6- 0.27cr (2days);
TOTAL Till date = 65.18 cr
It's 65.18 Crores and Counting for this S-U-P-E-R-H-I-T!! 
Parmanu- The Story of Pokhran, the ode to India's Unsung Heroes has not only become John Abraham's HIGHEST GROSSER as a solo Hero project going past Shootout At Wadala (62 cr), has also crossed the significant 65 crore milestone!!.
The film is still running in close to 100 screens in Week 6 once again proving the Power of Good Content.
What is incredible is that the Film has not only crossed the lifetime collections of several Hit films in its BO run so far, it is also showing a consistent hold on of daily collections till date.
Opening to critical acclaim Parmanu, soon had an extremely strong word of mouth, drawing huge crowds across markets.  It has maintained a steady audience pull resulting in a strong Box office performance till date with the audience love and adulation taking it to all-new heights despite all odds- a truncated promotional campaign, the holy month of Ramzaan, IPL semis on opening Friday and  & finals on Sunday.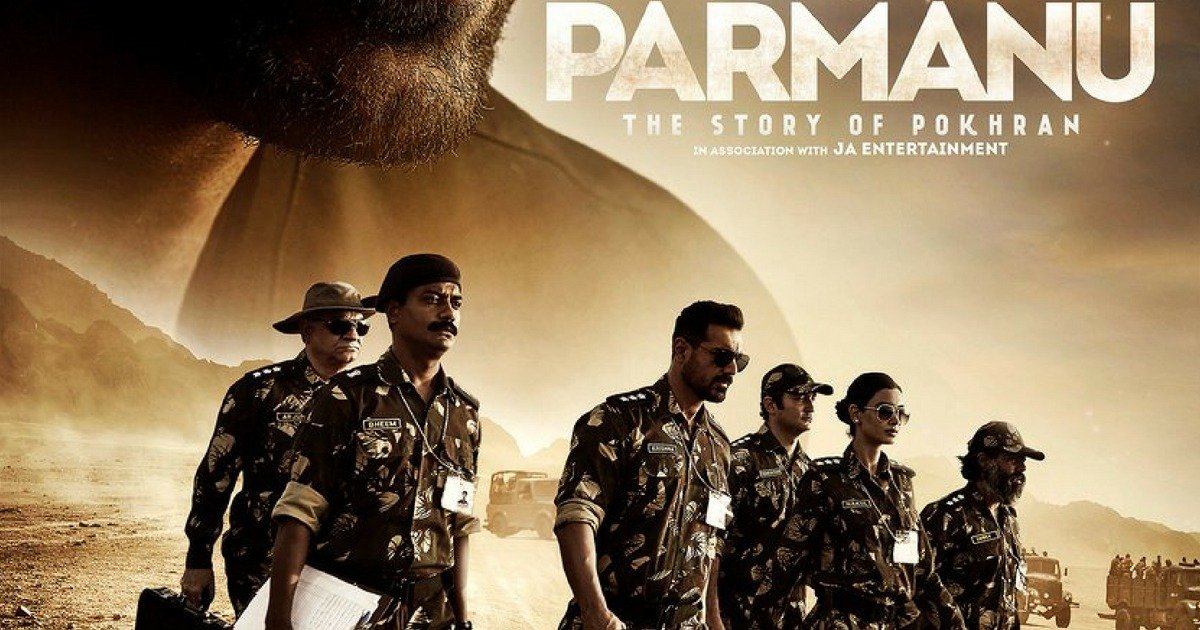 Parmanu- The Story of Pokhran – India Box Office Net Collections Update
Total Nett India BO collections till date: 65.18 crores
Week 1- 35.41 Cr; Week 2- 16.42 Cr; Week 3: 7.03 cr ; Week 4: 3.28 cr ; Week 5: 2.77 cr ;
Week 6: 0.27 cr (2 Days)
Parmanu– The Story of Pokhran  
Snapshot of Cost & Revenue
Cost (1):
Cost of Production (CoP) – 29.35 cr;
P&A – 5.5 cr,
Total Cost – 34.85 cr
Revenue (2):
(A)Revenue from sale of Satellite, Digital, Music and Overseas rights – 27 cr. 
India Box Office Nett Collections, till date  – 65.18 cr
(B)Producer's share of India BO revenue (@45% of Nett Collections) – 29.33 cr.
Thus, Total revenue (A) + (B) = 56.33 crores 
Profit till date (1) – (2) = 21.48 crores
Parmanu is a true-life human story of the kind of intensity not seen often. It salutes the efforts of the Indian Army, scientists, bureaucrats, intelligence agencies and others who worked so tirelessly against all odds to ensure that India finds its due place in the World Nuclear Map. What the audience takes home is not just the experience of a pacy and edgy plotline but also a sense of pride for our country and its twin pillars of strength- Jai Jawan Jai Vigyan!
Here is the Trailer of Parmanu
Directed by Abhishek Sharma, Parmanu-The Story of Pokhran stars John Abraham, Diana Penty and Boman Irani and is produced by JA Entertainment, Zee Studios and Kyta Productions. Vashu Bhagnani's Pooja Entertainment is its All India Distributor.
Parmanu- The Story of Pokhran, released on 25th May, 2018 and is running successfully Worldwide.