Rajeswari Vaidyanathan and Shannon Benjamin Won Gold Medal in Asia Open Latin Dance Championship.
The Chinese Taipei World Dancesport Federation (WDSF is one of the largest and prestigious competitive dancing body in the World) held their Asia Open Latin Championship starting from 8 am. India was a proud participant with Rajeswari Vaidyanathan, founder of India's best Latin dance school, VR DanceSport and her partner Shannon Benjamin, representing the country and won Gold medal in the championship.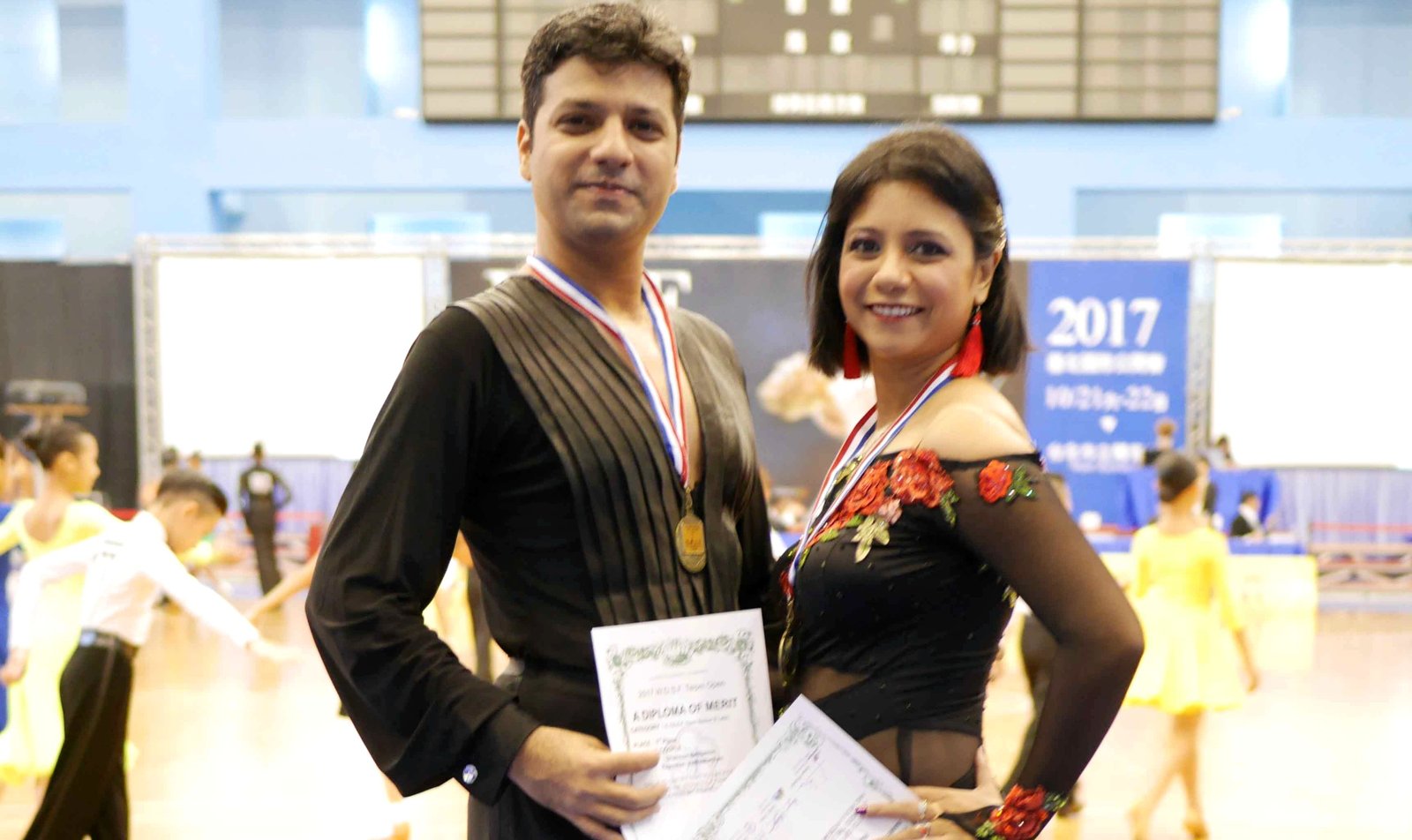 The Competition
In total there were over 20 countries warring it out on the floor. Latin segment of DanceSport that the duo specialize in have 5 dances in ascending order of difficulty Jive, Paso Doble, Cha, Rumba and Samba. It is part of the World Games and the Indoor Asian Games and is internationally the most glamorous and sought after sport and actively part of every university curriculum abroad. Latin was introduced in India about a decade back in a more structured way, but unfortunately we were at a very basic social dancing level. Rajeswari Vaidyanathan with her keenness to the competitive side of the sport was instrumental in bringing about the sea of change in introducing the right international competitive nuances of the sport.
The Magical Duo
Earlier this year the duo again won Silver and Bronze medals in the Thailand Open Dancesport Competition, one of the most prestigious competitions in Asia, with competitors across the World.
The duo has been preparing for the competition for the last several months with their coach Watcharakorn Suasuebpun who has been an Asia Pacific Champion and is currently a coach with Thailand Dancesport Federation training their couples. Being an extremely scientific and technically driven dance form in musicality, partnerwork and internal body movement it requires high level of dedication and hard work.
It was proud moment for India and them to be part of a major competition and winning gold among couples from various Asian countries. They shared the floor with couples from the top Asian countries in Danceport Thailand, China and Japan. The presence of their coach along with them was an added bonus to the motivation while on the floor. This sport like any other sport requires constant fitness monitoring and the couple in India is supported by Dr Aijaz Ashai, who has been a renowned sports physiotherapist with IPL, Pro Kubbdie, Indian Rugby Federation etc.
What makes Rajeswari special, is her relentless work not just for herself and her partner but towards growing awareness of this sport in India. As any other mission she are faced huge challenges which she has successfully overcome. Even more difficult is she mission that she juggles between being a competitive athlete, requiring hours of practice, runs her own school under VR Dancesport banner and is instrumental in starting the National affiliation to the World Dance Council that organises State and National level Championships every year supported by her partner, Shannon.