Pop sensation Dhvani Bhanushali recently spent time with the adolescents from Salaam Bombay Foundation at an event hosted by KidZania Mumbai, a global edutainment theme park for families.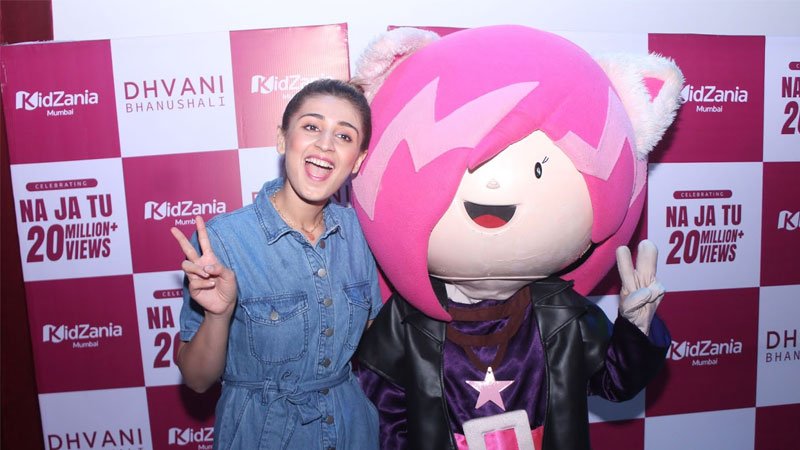 The young starlet celebrated the success of her recently released song Na Ja Tu, which has garnered more than 23 million views.
Over 100 adolescents attended the event where they spent quality time with Dhvani. During the two-hour event, the students from Salaam Bombay Foundation hailing from underprivileged backgrounds performed for their favorite singer.
While some sang songs, and danced to their heart's content, some took it upon themselves to entertain the artist with their acting, which was followed by a special performance by the pop sensation Dhvani Bhanushali.
Speaking about the entire experience, Dhvani Bhanushali shared,
"I will cherish this day for my whole life. It was really an amazing experience to watch and interact with these super-talented adolescents at KidZania. I'm way too overwhelmed by their love. I think this was the best way to celebrate the success of my recent single. Watching the dedication on their little faces as they confidently performed on stage in front of everyone has encouraged me. I would surely want to imbibe the same dedication in my performances so that I can entertain my audience every single day. I thank KidZania for hosting me and the Salaam Bombay students so beautifully."

Dhvani Bhanushali
On occasion of Dhvani visiting KidZania, Tarandeep Singh Sekhon, Marketing Director, KidZania India shared, "It was a true delight to host Dhvani on the success of her recent song Na Ja Tu at KidZania.
The song has touched our hearts immensely and has inspired kids to live their dreams, just like we do here at KidZania."
About KidZania India
KidZania is an interactive family entertainment & learning center that empowers, inspires & educates through real-life role-playing activities. KidZania is a unique combination of entertainment and an immersive media platform for brands to connect with Children and Adults, with a strong focus on giving back to society and better the community and environment.
Built like a city, it is complete with paved roads, battery-operated vehicles, buildings, a functioning economy & its own currency. By blending reality with entertainment, it provides an authentic and powerful developmental platform where kids can discover, explore and learn about the real world.
The realism of the role-play helps children learn about different careers, work, economy and how to manage money. Each activity experience is designed by Educationalists, Play Experts & Child Physiologists to aid and boost different behavioral skills and values in a child.
KidZania represents industries present in the real world like private services, public services, entertainment, airline, automobile, retail, restaurants, and factories where children can play the role of a Pilot, Surgeon, Detective, Chef, Engineer, TV Producer, Radio Jockey & much more from over 100 role-playing activities.'
Industry Partners' augment the role-playing experiences by enriching and creating an authentic, immersive and interactive brand experience, unmatched by any other location-based entertainment property. For Brands, KidZania serves as a sustainable engagement platform where brands get product exposure, brand exposure and immersive experience through branded role-plays.
KidZania is globally present across 26 cities in 20 countries, including multiple locations in the Americas, Europe, Japan, Korea, the Middle East and Asia. KidZania is operational in India at Mumbai since Sep 2013 and Delhi NCR since May 2016.