Khandaani Shafakhana is an upcoming film starring Sonakshi Sinha in the lead which talks about something that's least discussed in this country of 1.35 billion. Yes, sex!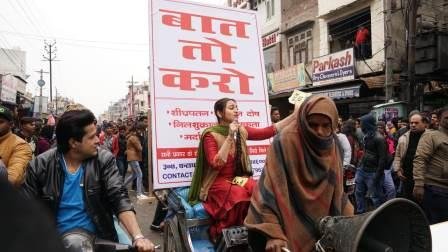 The slice-of-life movie tells the story of a small town Punjabi girl named Baby Bedi who inherits a sex clinic from her uncle. Through her journey, the film makes the audience reflect on why sex still remains a taboo in most parts of the country, and builds a campaign to break the stigma around sex in our society.
The makers have taken a funny approach to analyse and showcase how the taboo of sex and problems related to it affect the general well-being of nearly everyone in our society. Not just that, we get a glimpse of how a patriarchal society reacts to a girl advocating and treating sexual issues openly.
Talking about the same, Sonakshi says, "The reason I chose to do this film is the subject and how relevant it is even in today's day and age. I am glad that Shilpi decided to make a film about the sex taboo in our country… its a very brave attempt. I would like to encourage people to follow Baby Bedi's tagline that is, Sharmao mat, Baat toh karo!"
Director Shilpi Dasgupta adds, "It's quite astonishing that Indians seem to have lengthy debates on pretty much everything under the sun. Except, you know.. this subject. Well, it was time we talked about sex. I believe the more open we get about it, the sooner we will transform into a healthier society."
The film also stars Varun Sharma and Badshah, who is making his debut on the silver screen.
Gulshan Kumar & T-Series present, KHANDAANI SHAFAKHANA, a Sundial production. Produced by Bhushan Kumar, Mahaveer Jain, Mrighdeep Singh Lamba, Divya Khosla Kumar, directed by Shilpi Dasgupta, the film is all set to release on 2nd August 2019.