Women achievers and girls celebrate National Girl Child Day with CRY and St Xaviers College, Mumbai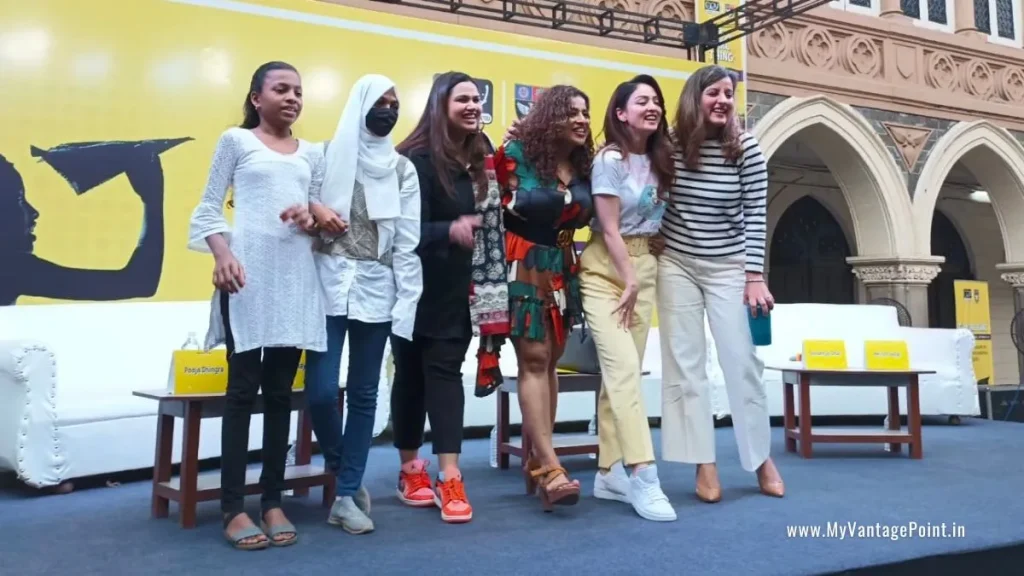 January 21, 2023, Mumbai: On the occasion of National Girl Child Day, leading child rights organization Child Rights and You (CRY) in collaboration with St Xavier's college organised a panel discussion with women achievers and girls from CRY projects at the college premises on January 19.
Now in its third year, this annual event, #ItsAGirlThing, was done for the first time on-ground at St Xavier's college, and it received an overwhelming response from all in the audience, and students in particular. At the event, accomplished women from varied fields and two courageous girls from CRY supported projects came together to discuss, interact and share how they have lived out the true meaning of It's a Girl Thing in their lives. How having role models, a road map, a sisterhood and a dream, (and opportunities!) has gotten them where they are and will get them where they want to go.
The inspiring women icons present were Mumbai Ki Rani and popular Radio Show Host Malishka Mendonsa, Founder of BabyChakra and Good Glamm Group Naiyya Saggi, Celebrity chef and author Pooja Dingra and actor and influencer Sandeepa Dhar.
The event was moderated by Lakshaya and Alaiha from St Xaviers College, Mumbai.
Over 400 students attended the vibrant panel discussion and were inspired by the many stories, the wisdom and advice from the panellists. The women and girls spoke about a number of things ranging from memories of school, chasing one's dreams and following ones career path.
Kreeanne Rabadi, Regional Director, CRY – West
"For the last 43 years, CRY has been committed to and has worked towards ensuring that every girl has the opportunity to meet her potential. We are honoured and grateful to have such powerful and inspiring women leaders and girls from our programs for this event. They are true role models and their stories reinforce our belief that it's a girl thing to be confident, to work hard, to dream big, and to be equal to everyone and second to none."
"It feels great to reconnect with CRY and hear the brave stories of the children and other inspiring panelists. There's always something to learn and take away from these discussions. I love being part of CRY's endeavour for a better world," observed Malishka Mendonsa who observed that one should always been in touch with one's roots how much ever successful you may be later in life.
Sandeepa Dhar says
"I believe that basic quality of life should be the right of all children, rather than a privilege enjoyed by a few. CRY has been working at the grassroot level in protecting and honouring the rights of children for over 4 decades and it humbles me to be part of this voice in inspiring collective action especially for girl child education and rights, which is a cause close to my heart,"
"I love the work that CRY is doing – I think it's so important for every girl to know that they can be whatever they want to be, and never let anyone tell them what they can or can't do!" says Pooja Dingra whoin her discussion added that girls are always being told from childhood what they should and should not do.
"As a brand and as a mother myself, the question we are constantly asking ourselves is how are we impacting and really improving the lives of all our children across India. I am so happy to share that in our partnership with CRY, not only as brand BabyChakra and The Moms Co have we found a trusted partner but also as a mother and entrepreneur it gives me great pride to see that now when we use a BabyChakra product on our own kids, we know we are also touching and caring for children in need of help & care across India.   Attending #ItsAGirlThing further cemented the belief especially seeing smart courageous children of CRY like Himani and Mayuri share their stories of how CRY had impacted them positively. More power to the organisation and to the team at CRY," said Naiyya Saggi