Summer is here, and that means it is time to put away the snow boots and break out the sandals. They are an ideal way to keep your feet cool and comfy while also adding a stylish touch to your outfit. Featuring an array of colours, styles, and designs available, Language has got the perfect sandal to suit your summer wardrobe. With quality materials and craftsmanship, these sandals will let you breeze through the day.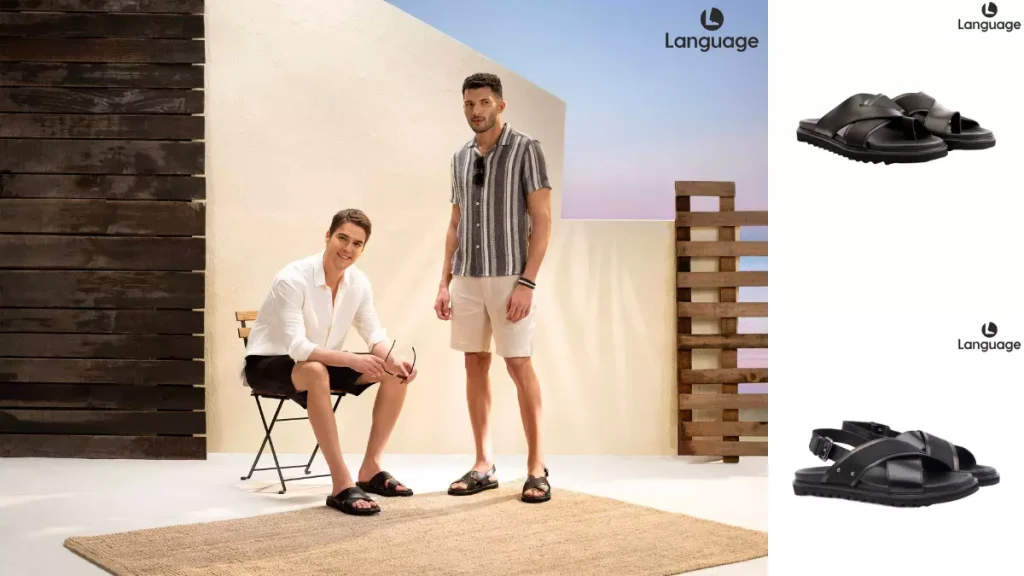 The Durant Sandal is a must-have for anyone looking for a modern twist on casual footwear. Their premium metallic leather upper exudes an eye-catching aesthetic, while the soft sheep leather lining ensures comfort throughout the day. Perfect for everyday wear, these sandals are designed to meet modern demands without compromising on their classy appeal. The Durant Sandals are available in Black.
The Clover Sandal 
It offers a unique blend of luxury, functionality and style. These sandals are ideal for a casual look as they feature a moulded footbed, plush sheep lining and are handcrafted using rich metallic leather. These sandals, with their minimalist and new-age style, are sure to give your ensemble a distinct edge. They are available in Black.
The Hansel Sandal
It can help you achieve an effortless style. These sandals are designed to perfection with a cork footbed that moulds to the contour of your feet and matches your everyday outfit with comfort and style. They are available in Black, Brown and White colour options.
Packer Sandal
If you want comfort and support, the Packer Sandal are an excellent choice. These sandals are all about casual and simple elegance, with an adjustable leather strap and a cork footbed that ensures a great fit for happy feet all day long. They are available in Black, Brown and White colour options.
Price: Rs.3,790/-
Holden Sandal
Slip into the stylish and incredibly comfortable Holden Sandal. Featuring a cork footbed with adjustable leather straps, these handcrafted sandals are a must-have in your wardrobe. They are available in Black and Brown colour options.
Price: Rs. 4,290/-