Actress & Model Lisa Haydon closes show for Mishru at Lakmé Fashion Week 2018 in Mumbai. She rocked the ramp with her stunning look in Mishru's Supernova Collection. 
SUPERNOVA : Mishru's Winter-Festive'18 Collection
This season, Mishru's Supernova collection will showcase a beautiful contrast between brightness and darkness, night and day, strength and fragility, power and surrender – making it their biggest leitmotif.
The line will see it in the palettes that run rampant through Supernova – going from the dark brilliance of the moonless nightsky to the midnight blue of a moonlit one, from the greys that lie in-between to the breaking in of the morning light. The balance of structure and freedom that is found in nature is carried forward here in silhouettes that allow a woman to stay unbound and yet, carry a strong, defined structure.
Lisa Haydon at Lakmé Fashion Week 2018
Their enduring love for contradictions juxtaposes power dressing (think strong capes and blazers) with unabashed femininity. With Indianness being at the core of the brand, the Supernova Collection attempts to bring forth something blazing and beautiful for the Mishru woman.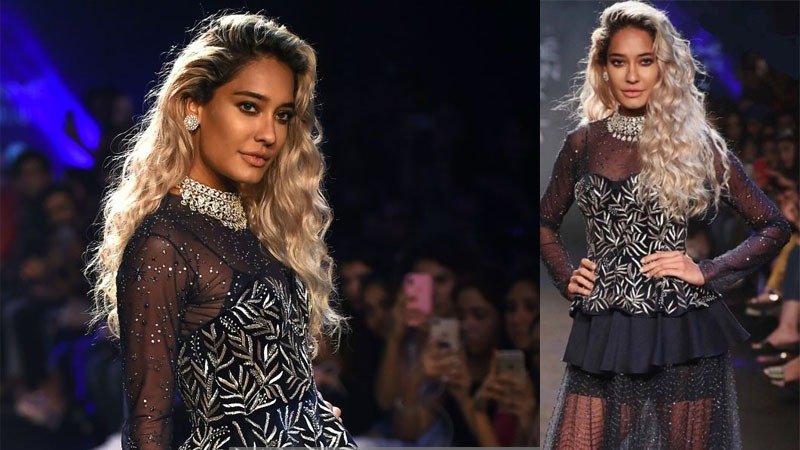 Supernova Technical Specifications
Techniques: Aari, zardosi and hand embroideries, knife pleating, draping, glass bead scatter.
Elements: Miniature glass beads and pearls, sequins, metal strings.
Fabrics: A variety of silks (raw, Chanderi, etc), light and heavy georgette, tulle, crepe, twill satin, micro velvet, organza.
Brand Profile: Nuanced design elements and cultural coherence serve as the highlight of Mishru, an Indian wear label with its finger on the sartorial pulse of the modern Indian woman. And it is this keen understanding of what the girl of today truly wants that has proved to be the trump card of founder and designer, Swapna Anomolu's contemporary offering.
Based in Hyderabad, the label started out in 2015 with a vision of serving up a unique amalgamation of modern design elements juxtaposed against traditional aesthetics, thereby deriving the name, 'Mishru' that translates into 'a mix or fusion of elements'. Fluid yet bold silhouettes take form in a palette of muted colours to bring Swapna's dream of minimalist luxury to life.
The journey to designing Indian wear has been a long one, but it was made easier by Swapna's crystal clear focus on the women she designs for. "The Mishru girl takes the best of everything and makes it her own. She is strong, bold and is able to pull off anything she wears," she explains. It is this ability to understand, create and deliver on what women want today that has helped her grow the label from strength to strength, and flourish from a small design studio to a thriving label with a loyal base across the key metro cities in the country.