Why Rajshri Deshpande went topless in Sacred Games?
Everyone is talking about Rajshri Deshpande and her topless shot in the lovemaking sequence with Nawazuddin Siddiqui in the Netflix series Sacred Games.
Rajshri, who was earlier noticed in Angry Young Goddesses and more recently in the Malayalam film Sexy Durga, is unfazed by the attention.
Rajshri Deshpande in Sacred Games
"When I did the scenes, I wasn't aiming at a particular impact. It was what the character Subhadra and the situation demanded. Since I had faith in my director Anurag Kashyap, I didn't hesitate even for a minute in saying 'yes'."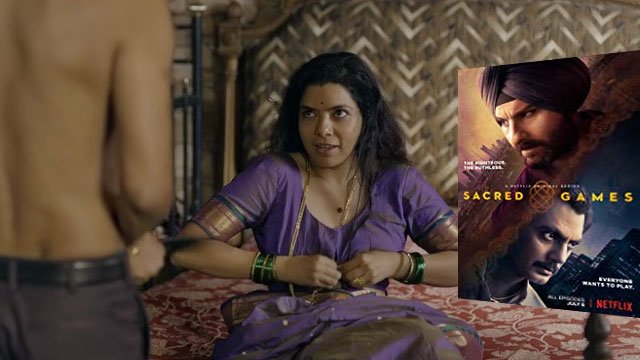 Rajshri wants to thank her co-star for putting her at ease during the nude scene.
"Nawazuddin Siddiqui was a very big support. He made sure I was comfortable. In fact, the whole team was a big help. And it isn't as if my nudity is gratuitous; it comes with a back story."
"Nawaz, who plays my husband, doesn't look at women when he has sex with them. He never kisses them. That moment when I am in front of him is decisive."
More importantly, the attention that has come Rajshri's way is helping her get recognition for her other work.
"I do a lot of work with farmers, and now that is being talked about. I was not popular on Instagram at all. Suddenly my fan following is growing," she says.
"It's good to be recognised for one's work. Whatever work I have done, I am proud of it, including the scene in Sacred Games. Like I said, I did it with my eyes open. I knew what I was getting into."
Rajshri is proud to be associated with the series.
"The novel Scared Games is written by Vikram Chandra. Varun Grover, Smita Singh and Vasanth Nath have adapted it to the screen and have done an amazing job. The entire team is extremely accomplished. I'd have been foolish not to do this," she says.
Rajshri hopes the recognition will translate into more substantial work for her.
"Whatever I've achieved so far has been on my own merit. I haven't had the help of anyone in getting here."
"The road ahead is also my own. I am on it."