Godrej Professional, a professional hair brand with products in hair care, colour, styling, and keratin from Godrej Consumer Products Limited (GCPL), organised a spectacular hair show with actress Shamita Shetty gracing the ramp as the showstopper. Shamita flawlessly donned the captivating 'Dimension-Ombreyage Collection' hair colour look, reflecting the brand's commitment to embracing individuality, inclusivity, and self-expression through vibrant hair colours. The runway also featured a talented line-up of models showcasing exquisite hair colours from the Godrej Professional 'Dimension-Ombreyage Collection'.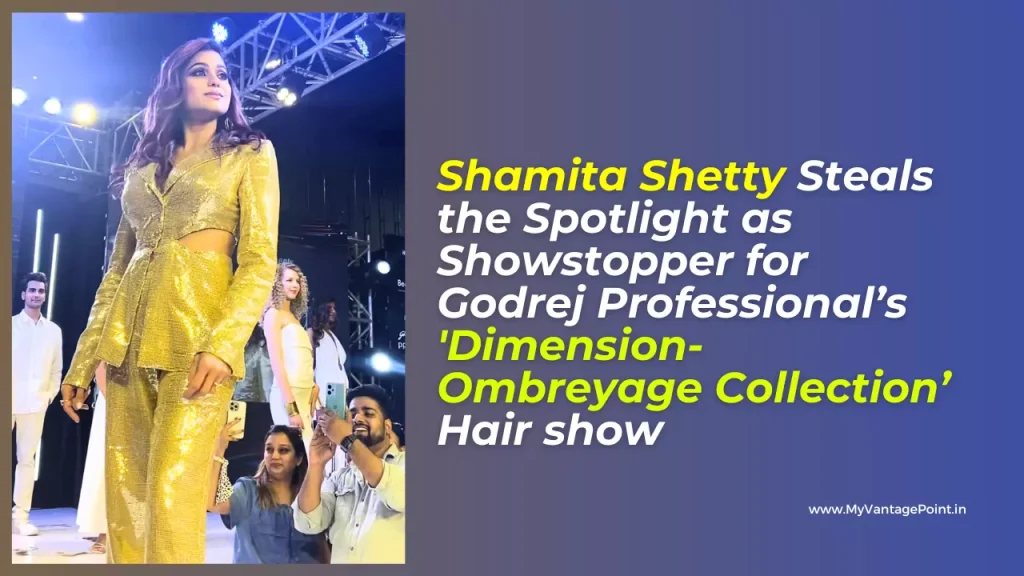 The hair show took place in Pragati Maidan, Delhi, and was organised on the sidelines of the Professional Beauty India Expo 2023. Godrej Professional also organized a captivating masterclass during the event where renowned celebrity hairstylists and technical ambassadors, Sylvia Chen, Ryan Rozario, and Najeeb Rehman, shared their expertise, unveiling the latest trends, techniques, and innovations in the dynamic world of hair and beauty.
Shamita Shetty shared her excitement, stating,
"I am thrilled to be associated with Godrej Professional and showcase the 'Dimension-Ombreyage Collection.' This collection not only offers stunning hair colours but also represents a powerful message of embracing diversity and celebrating individual identity. Hair colours have always been a fascinating form of self-expression for me. They allow me to experiment, play with different looks, and showcase my personality in a unique way. I believe that your hair colour can be an extension of your true self, reflecting your inner vibrancy and individuality."
The vision of Godrej Professional is to transform the salon and beauty industry. This partnership creates a platform to bring together salonists, beauty professionals, enthusiasts, and brands together on a common platform, fostering collaboration, education, knowledge sharing and celebrating the art within the salon and beauty community.
Commenting on the show, Neeraj Senguttuvan, Category Head – Hair Care, Godrej Consumer Products Ltd (GCPL), said,
"As a brand, we have always believed that our products can be used by absolutely anyone and that's what makes Godrej Professional a leading name in hair colour segment. This hair show, organised as part of our participation in Professional Beauty India Expo 2023, featured the latest collection 'Dimension-Ombreyage Collection' along with our hair colour and care products. We are glad to rope in Shamita Shetty to be the showstopper for the hair show. Dimension features a prismatic and diverse take on colours and cuts for every hair type and persona. We are further committed to undertake more such initiatives highlighting our range of hair colour, care, styling, and keratin products."
Celebrity hair stylists Sylvia Chen, Ryan Rozario and Najeeb Rehman conducted an exclusive session, showcasing the stunning hair colour looks from the 'Dimension-Ombreyage Collection' by Godrej Professional. The styling session commenced with an informative talk by the stylists on trending haircuts and the four hair colouring techniques. They then showcased the hair colour and cut and styled hair live on stage – revealing all the tips and tricks to stylists to recreate these looks in their salons.
'Dimension' by Godrej Professional is a campaign weaving beauty with the message of acceptance, inclusivity and self-expression. As part of the campaign, the 'Dimension-Ombreyage Collection' features four captivating hair colour looks like Sandstone Ombreyage, Auburn Ombreyage, Crimson Ombreyage, and Pearl Square.
Godrej Professional offers a colour range consisting of 34 stunning hair colour shades. Apart from its exceptional hair colour range, Godrej Professional offers a wide array of styling products, along with transformative treatments like keratin treatments. Additionally, they provide a range of hair care products, including shampoos, hair masks, and serums, catering to diverse hair needs.