The latest promo trailer of Tiger Zinda Hai (a sequel to the blockbuster Ek Tha Tiger) has Salman Khan & Katrina Kaif fighting wolves in snow-clad terrain. It reminds us of the fantastically shot scenes with wolves in Liam Neeson's Hollywood hit The Grey (2011).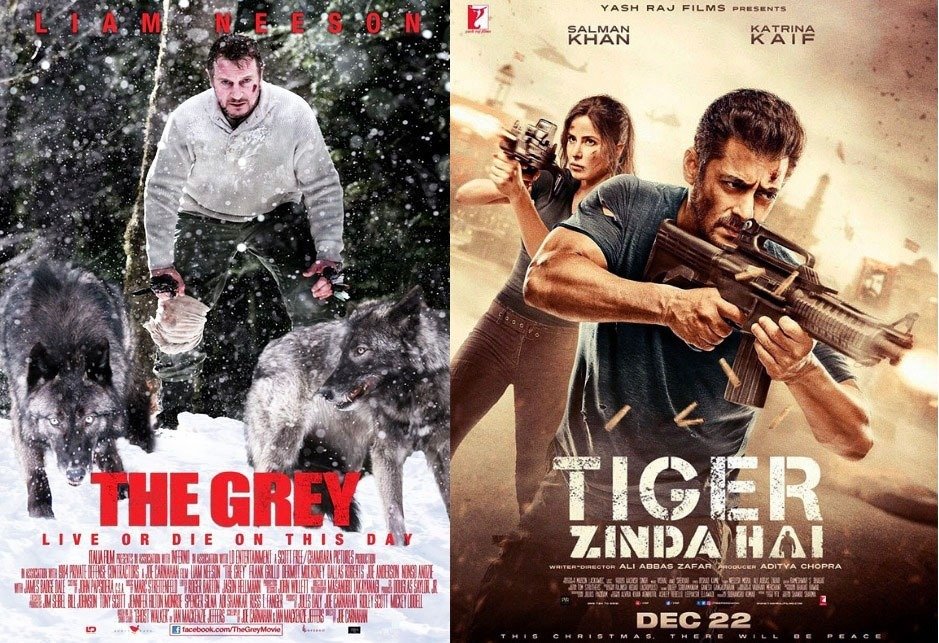 So much so, that some Hollywood fans might term the sequences as copied. Even Salman's get-up with a woolen cap and leather jacket in some scenes match. Though of course, on the whole, the films would have completely different plots.
The Controversy
The clips which begin with Salman skiing like James Bond and Van Damme; being chased by a pack of four wolves. They end with him being attacked head-on by a wolf, while he tries to defend himself with axes. Though the end of the Bollywood promo is as vague as the climax of the Hollywood survival-flick, we are quite sure 'Tiger' Salman will survive, whether Liam Neeson did or didn't (wink). After all, our superheroes never die in a fight. Do they?
The Expert View
"The scenes seem to have been wonderfully shot and look realistic and convincing. Even if a little inspiration has been taken from Hollywood films like The Grey or The Revenant (where Leonardo DiCaprio fights and gets mauled by a bear), I don't think it should attract controversy," remarks Bollywood's only PR guru Dale Bhagwagar.
Now, we all know that humans have no chance of surviving a hand-to-hand fight with wolves. So does Dale think Salman would survive? "Tiger zinda hai, woh kaafi nahin hai kya?" asks the PR expert as he grins. "Salman's giving great money-making hits to our industry. So if he's having a desi Tiger franchise like James Bond, Jason Bourne, xXx, Harry Palmer, Taken or the Mission Impossible series; what's the harm! The more the merrier," concludes the public relations specialist.