Crystal movies are coming with "The Hidden Strike", the next feature to stream on their Shemaroo platform on the 14th August 2020.
The streaming giant's diverse content has been lapped up by audiences all over and their upcoming Independence Day release pays a soulful tribute to our unsung heroes in uniform.
The Hidden Strike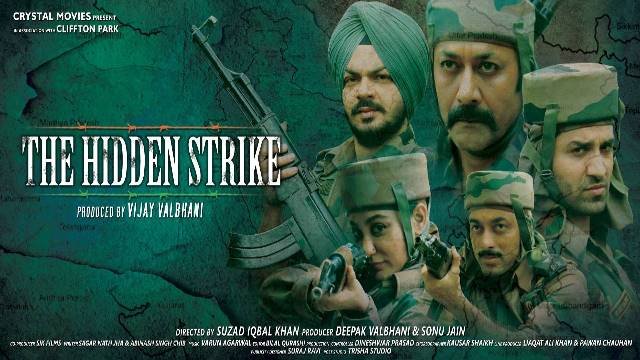 "The Hidden Strike" is an action thriller inspired by the courage, gut and valour of the Indian armed forces.
A fictional tale based around recent events where India struck hard and hit back at the border, the film's trailer manages to rouse a sense of glory, honour and passion as we witness the triumphant endeavours of the army.
Putting their lives in unforeseen yet calculated danger, our warriors in green cross enemy lines to weed out the villains that threaten our country.
The film is proudly feminist too, depicting a fierce and courageous woman fighting besides her male counterparts.
Star Cast
A Crystal Movies production, "The Hidden Strike ", starring Deepraj Rana, Jimmy Sharma, Lakha Lakhvinder, Mir Sarwar, Sanjay Singh and Vedita Pratap Singh among others, produced by Vijay Valbhani and Sonu Jain is written by Abhinash Singh Chib and Sagar Jha.
The movie releases on ShemarooMe Box Office on 14th of August 2020. Actor Jimmy Sharma proved his acting skill he left everyone emotional through his power packed performance.
"One should never forget the innumerable sacrifices made at the line of control so that we can breathe easy", says director Suzad Iqbal Khan.
He adds, "My intention behind "The Hidden Strike" was to not only salute the people who keep us safe, but also create a war film with action sequences of international standard. We have ensured that the movie stands toe to toe with any of the titles that Hollywood boasts of."
On collaborating with ShemarooMe, he shares, "The lockdown has made it implausible for our film to reach the big screen but I heaved a huge sigh of relief on knowing we'll be coming to ShemarooMe Box Office, which assures that a record number of audiences get to view it".
On the opportunity to play a tough as nails army man, Singham Returns star Deepraj Rana shares, "Who wouldn't want to essay such a powerful character with a no-nonsense attitude? As the release date nears, I am filled with nervous excitement. My performance is dedicated to the thousands who protect us day and night, hope the whole country watches our film and treasures their selfless efforts".
The Producer
Elated that his film is releasing on such an important day, producer Vijay Valbhani shares, "Very few producers get to create not just a great film, but one that contains a pivotal message of 'Nation first'. The fact that we arrive on Independence Day is just perfect. Our film reiterates that India won't back down anymore; we welcome peace but don't entertain miscreants that cause us harm. The Hidden Strike is for all those champions in olive green who tirelessly preserve the integrity of Atulya Bharat.".
Vedita Pratap Singh, playing a headstrong and fearless female officer shares, "My role is of a lady who is ambitious, determined and loyal to the country, these are qualities I personally identify with as well, so it was almost destined for me to portray this character".
While being an ambitious war drama, "The Hidden Strike" is complemented by a soothing yet exhilarating soundtrack too. After winning over listeners with his melodious voice in Super 30 and Angrezi Medium, Divya Kumar lends his stirring baritone to "Ek Do Ek", a song sure to motivate every countryman. Manmarziyaan fame musical heartthrob Shahid Mallya croons another captivating tune for the film in "Khoon Mera Kholey". Music directed by Varun Agrawal.
Crystal movie presents "The Hidden Strike", brings Indians the perfect way to celebrate 14th of August with the family, so don't forget to grab your tickets on the BookMyShow or Shemaroo Me website/app.