This Month will creep you out with the scariest movies releasing in this month April 2023. The Pope's Exorcist, Renfield & Evil Dead Rise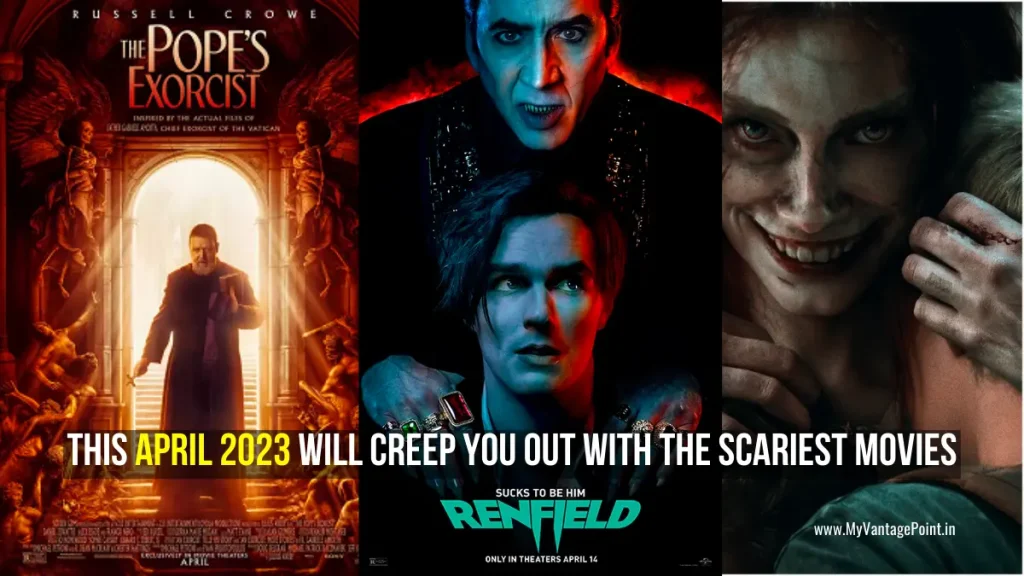 Are you a fan of dark mansions, supernatural environments, and eerie creatures? If so, we've got a list just for you! Gear up for a pulse-racing, heart-thumping, nail-biting experience at the movies. Horror is one of the most enduringly popular film genres in India, and Indian horror movie fans are some of the most passionate moviegoers in the world.
English horror films continue to be a popular and influential genre in India, and many of these movies have gained a cult following. The genre has found an audience among both younger and older viewers who enjoy watching horror movies at any time of the day.
Horror movie fanatics are in for a spooky treat as April 2023 will see the release of some of the most highly-anticipated horror movies of all time. The release of three highly-anticipated horror movies in April 2023, The Pope's Exorcist, Renfield, and Evil Dead Rise, gives horror movie fanatics a great reason to visit the cinemas. These three movies promise to deliver an unforgettable experience with their unique storyline, powerful performances, and spine-chilling visuals.
So why wait? Grab your horror movie partner and book your tickets at your nearest INOX and PVR right away. 
The Pope's Exorcist
The Pope's Exorcist is a highly anticipated horror movie that is set to release on April 7, 2023, in multiple languages including English, Hindi, Tamil, and Telugu. The movie stars Academy Award-winning actor, Russell Crowe, and is inspired by the true story of Father Gabriele Amorth, Chief Exorcist of the Vatican. Father Amorth has gained fame for performing over 100,000 exorcisms throughout his life and is considered to be one of the most experienced and knowledgeable exorcists in the world.
The movie follows Father Amorth as he investigates the possession of a young boy and uncovers a centuries-old conspiracy. The plot promises to be a thrilling ride for horror movie fans as it delves into the dark and mysterious world of exorcisms and the supernatural. Don't miss the nightmarish stroll down Father Amorth's career on April 7, 2023, on the big screens.
Renfield
Renfield is a highly-anticipated horror-comedy movie that promises to be a wild ride. The film is based on the character Renfield from Bram Stoker's classic novel, Dracula, and stars Nicholas Hoult as the titular character. Renfield is Dracula's loyal and devoted servant who falls in love with a traffic cop named Rebecca Quincy, played by Awkwafina. As Renfield becomes more enamored with Rebecca, he begins to question his allegiance to Dracula, leading to a series of hilarious and horrifying exploits.
Fans of horror and comedy will find much to enjoy in Renfield. The film promises to be a unique and exciting take on the classic Dracula story, with plenty of scares and laughs along the way. With its talented cast and crew, Renfield is a must-watch for anyone who loves horror-comedy films. This movie premieres in cinemas on April 14, 2023.
Evil Dead Rise
Evil Dead Rise, the fifth installment in the Evil Dead franchise, is set to hit theaters on April 21, 2023. Horror fans are eagerly anticipating this movie as it promises to deliver spine-tingling scares and a thrilling ride. The film follows the story of two sisters who are forced to confront their past demons when they reunite in an apartment building in the city. However, their reunion is short-lived as a flesh-possessing demon rises and unleashes the sinister creatures known as Deadites. The sisters are plunged into a primal battle for survival against these terrifying creatures, leading to a nail-biting and heart-pumping experience for the audience.
The movie promises to bring the horror to a whole new level with its terrifying visuals, haunting soundtrack, and spine-chilling storyline. The gripping narrative, combined with the talented performances by the cast, will keep audiences on the edge of their seats throughout the movie.
Grab your popcorn and enjoy the freaky Fridays with these movies at your nearest INOX and PVR cinemas.